"The euro won't survive", says Matteo Salvini from Italy's Northern League
Comments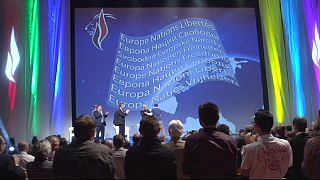 He has described the Euro as a crime against mankind and was one of the guests of honour at the French far-right National Front's party conference in Lyon.
Matteo Salvini, the leader of Italy's Northern League party, has allied himself with eurosceptic parties in Brussels where they hold five seats.
Though Marine Le Pen and Salvini may see eye to eye on Europe, his federalist policies seem at odds with the National Front. Euronews quizzed him about this.
"We don't change our policies according to different contexts," he said. "We are still independentists, federalists. We want independence everywhere, from Scotland to Catalonia or Crimea to Veneto. With Marine Le Pen we share some battles on immigration, taxes, agriculture, the euro, and the traditional family model. We still are federalists. She has another political vision. We want to create a movement at a European level because Italy cannot fight alone.
"We can have a two-speed euro, a regional euro, we can go back to national currencies. I believe that the euro won't survive."
"Europe is dying, slowly and disastrously. We want to increase the number of people that were here today in Lyon. To add other nationalities, other cultures. People that agreed on some points such as controlled immigration, and the citizen at the centre, not a bank, not finance, not per cent parameters, not the ECB, but the citizen."
Euronews correspondent Alberto de Filippis at the conference referred to David Cameron's threats of leaving the EU, saying that perhaps he has found some allies in the right-wing populist parties in Lyon.