Pele 'fine' after being taken into special care unit
Comments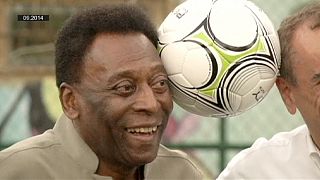 Brazil legend Pele, who is being treated for a urinary tract infection, is in good condition according to his spokesman and is expected to leave the Albert Einstein Hospital in Sao Paulo in the next few days.
The hospital earlier sparked a media frenzy by announcing that the thee-time World Cup winner had been taken to a special care unit because of "clinical instability".
Jose Fornos Rodrigues, Pele's personal aide, said the former Santos striker was 'fine' and the move was primarily to protect his privacy.
Pele won 91 caps for Brazil and scored a world record total of 1,281 goals in 1,363 games during his illustrious 21-year career.