Mexican president plans crackdown on police corruption
Comments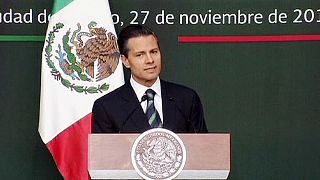 Mexican President Enrique Pena Nieto has unveiled new proposals to simplify the country's disorganised police structure.
His list of plans is extensive and includes: a constitutional reform to fast-track a law against organised crime; an initiative to redefine and clarify powers held by authorities within the penal system; and the suggestion of a constitutional reform to establish a united state police force.
"For years as a country we have been discussing the need for unified state police forces. But so far we have been unable to put this resolution into action", Nieto announced.
The system is currently chaotic: hundreds of municipalities, 31 states and the Mexican capital each have their own police force.
Pena Nieto's speech came amid growing pressure from protesters demanding an end to police brutality.
"People who have taken to the streets in Mexico and around the world all agree on one fundamental point – that Mexico can not continue like this. And they are right. After what happened in Iguala, Mexico must change", he said.
On Thursday (November 27), 11 corpses were found on a roadside in the same southwestern state where 43 student teachers went missing in September. The government claims the students were massacred after corrupt police officers handed them over to a drug gang. They were then allegedly killed and incinerated.
It remains to be seen whether the reforms will go ahead and, if so, what kind of impact they will have. Several of the current president's predecessors have also attempted to undertake police reforms, with little success.