Volvo Ocean Race: Fleet reach half-way point of second leg
Comments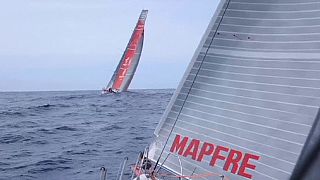 The leading boats in the Volvo Ocean Race have reached the half-way point of the second leg from Cape town to Abu Dhabi.
After one week of racing the second stage the two pace setters are currently leg one winners Abu Dhabi Racing and the Spanish syndicate of Mapfre.
Abu Dhabi lost a little bit of time after suffering a tear in the sail but they remain in a two way battle for the leg honours with skipper Iker Martínez and his Mapfre crew.
With that said it remains a tightly contested affair with roughly 25 nautical miles separating the seven boat fleet as they leave Madagascar behind them.
The All female crew of Team SCA are brining up the rear.
So far it's plain sailing but that could change in the coming days with tropical storms closing in on the fleet.