Socrates has history of corruption accusations that didn't stick
Comments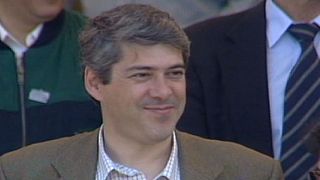 José Socrates has become the first former prime minister of Portugal to appear before a judge. A photo of him in a police car on his way to face corruption questioning first thing on Monday morning shocked many Portuguese.
He had been arrested at Lisbon airport on Friday evening, after arriving from Paris. It seems probable that he was aware that three people in his entourage were arrested last Thursday. Socrates switched to a later flight twice.
Today aged 57, the politician originally studied to become a civil technical engineer, but that career ended with his dismissal for allegedly shoddy construction. In 2007, a scandal blew up over whether he'd ever really got a proper degree.
A member of the Socialist Party since 1981, elected MP in '87, party secretary-general in 2004, in 2005 he made prime minister. He held on to that in 2009 elections, but 2011 ended it.
Austerity plans sustained with the reluctant support of the right went too far, moving all five opposition parties in parliament to vote a no confidence motion.
Portugal was in the throes of the euro zone debt crisis. Socrates resigned as premier and as party secretary-general.
Among his other low points, he fell under suspicion before and after that for activity while he was Minister for Environment in 2002, and approved a licence to build a giant mall outside Lisbon, partly on supposedly protected land. Socrates was the object of allegations that illegal payments were made. That corruption case was eventually dropped.
In a televised interview last year, Socrates blamed international financial circumstance for his government's downfall, rejecting assertions that its management was at fault. He appears once a week on Portuguese television now, as a political commentator.