Israeli cabinet backs bill which critics describe as 'undemocratic'
Comments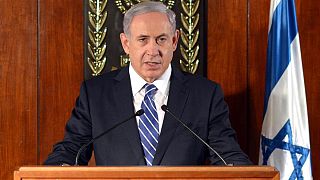 A divided Israeli cabinet has approved a controversial law which opponents say will reserve 'national rights' for Jews and not for minorities.
Arab Muslims and Christians make up 20% of Israel's population.
Prime Minister Benjamin Netanyahu said it was needed now because the notion of Israel as a Jewish homeland was being challenged.
"The state of Israel is the nation state of the Jewish People. It has equal individual rights for every citizen and we insist on this. But only the Jewish People have national rights. A flag,anthem, the right of every Jew to immigrate to the country, and other national symbols."
But the bill which still requires Knesset approval split the cabinet 14 to 7 with reports of heated exchanges between Netanyahu and his Justice Minister Tzipi Livni.
Finance MInister Yair Lapid also objected to the law which comes as tensions between Israelis and Palestinians have risen sharply and friction within Israel's Arab minority is growing.