Kenya government vows to hunt down al-Shabaab bus attack killers
Comments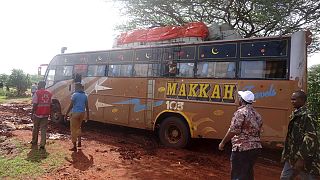 Witnesses have been describing how non-Muslims were singled out for execution when the Somali militant group al-Shabaab ambushed a bus in Kenya.
Twenty-eight people were shot dead in the attack near Mandera in the country's northeast.
One official said three people saved their lives by reciting the Koran.
Jeoffrey Nyangau described how his brother played dead and survived the attack.
"As they were shooting all the people, the blood from the people beside my brother covered him – and then the militiamen thought that they had already killed him, and then he kept lying there and pretending that he was dead," he said.
The Kenyan government says the army has responded by launching ground and air raids, destroying a camp believed to have been used by the attackers.
"Some offensives have been taken, they have been identified where they came from, their resources destroyed and we continue to make inroads to make sure that we bring to justice those responsible," said Joseph Jama Ole Lenku, Kenyan Interior Cabinet Secretary.
The bodies of the victims – thought to be 19 men and nine women – have been flown to Nairobi, where last year al-Shabaab killed dozens at the Westgate shopping centre.
The group said the bus ambush was in revenge for a crackdown on Islamists in Mombasa.
Although al-Shabaab's leader was killed in September it continues to operate effectively both in Somalia and abroad.