Afghanistan MPs approve security deal
Comments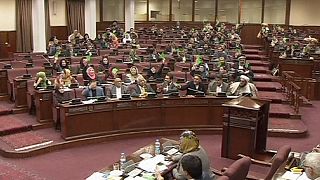 Afghan MPs have overwhelmingly approved a security agreement with the US and NATO which allows the international troops too remain in the country.
It comes amid a renewed offensive by the Taliban.
The international mission began in 2001 and was due to wrap up by the end of this year.
"I believe this is very important for the future of Afghanistan. If I want my kids and millions of other children to live in prosperity we need strong partnership between Afghanistan and the US," said MP, Shukria Barekzai.
Abdul Satar Khawasi one of the five MPs who voted against the deal said, "out of 26 articles, 22 of them violate our religion, our sovereignty and our citizens' fundamental rights."
The new agreement allows the US and NATO to keep up to 12,000 troops on Afghanistan's soil to support local forces.
The White House has approved new guidelines allowing American troops to engage Taliban fighters, not just al-Qaeda operatives in the country.