Portugal: Ex-PM José Socrates held in corruption probe
Comments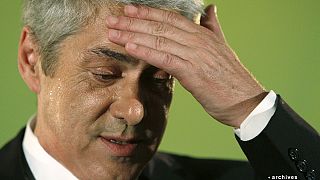 Portugal's former socialist prime minister José Socrates has been arrested over an investigation into tax fraud, money laundering and corruption.
The public prosecutor's office says the inquiry centres on bank operations and money transfers from an unknown source.
Socrates was prime minister for six years and led a government that imposed austerity measures and was forced to seek an international bailout due to the financial crisis.
He lost parliamentary elections in 2011.
It's understood that Socrates was one of four people held in recent days.
He was arrested at Lisbon airport upon arrival from Paris and is expected to appear before a judge on Saturday.
As premier he faced questions over the approval given when he was environment minister for a shopping centre to be built on protected land near Lisbon. The inquiry was later shelved.
The inquiry is not connected to the so-called "golden visas" scandal under which foreign investors can get residency rights in Portugal and thus visa-free travel throughout the EU's Schengen zone.