Poultry cull continues in Netherlands as third case of avian flu found
Comments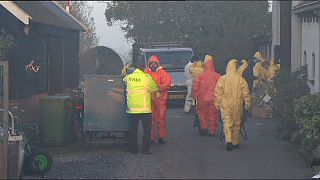 Another 10,000 chickens are to be slaughtered in the Netherlands, where a third case of avian flu has been found on a farm.
It brings to more than 200,000 the number of birds culled in the last two weeks after there were also cases in Germany and the UK. The Dutch may be the worst affected, but they believe they have quickly taken the right measures.
"We have announced a standstill, that means it's not allowed to transport poultry, eggs, poultry manure or anything like that for the next 72 hours, from this area and the rest of the Netherlands, so we can keep the area of the virus as small as we can," said the spokesman for the Netherlands Food and Consumer Product Safety, Benno Bruggink.
Risks to human health remain small in this outbreak, even if farmers are biting their nails ahead of the make-or-break Christmas season when poultry sales soar and there are birds on nearly every European table.