Obama's 'risky' immigration gamble
Comments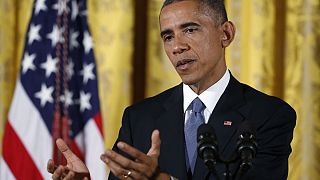 Almost five million undocumented immigrants already living in the United States will have the chance to avoid deportation, under important changes to the immigration system announced by President Obama.
"My fellow Americans, we are and always will be a nation of immigrants." —President Obama #ImmigrationAction

— Barack Obama (@BarackObama) November 21, 2014
President Obama's ready to announce his #ImmigrationAction. Watch live at 8pm ET: http://t.co/tqb6H23QH5https://t.co/m6Tm4oIo99

— The White House (@WhiteHouse) November 21, 2014
In an emotional televised address, Obama set out his plans to overhaul what he called the 'broken' immigration system.
"If you've been in America for more than 5 years, if you have children who are American citizens or legal residents, if you register, pass a criminal background check and you're willing to pay your fair share of taxes, you'll be able to apply to stay in this country temporarily, without fear of deportation, you can come out of the shadows and get right with the law, that's what this deal is."
The programme stops short of offering full amnesty and includes a special passage on deporting people with criminal records, Obama explained deportations should focus on 'felons not families'.
The move, a so-called executive action bypassing the conservative-led Congress, has infuriated Republicans who've vowed to fight the measure.
I am outraged at the President's irresponsible 'my way or no way' approach to the important issue of #immigration reform.

— Richard Hudson (@RepRichHudson) November 21, 2014
Republican Richard Hudson representing the 8th Congressional District of North Carolina.
President Obama's executive amnesty flouts the Constitution, disregards the election results, and defies the will of the American people.

— Michele Bachmann (@MicheleBachmann) November 21, 2014
Republican Michelle Bachmann serving Minnesota's 6th Congressional District.
Obama responded to them by calling on them to pass their own bill.
"To those members of Congress who question my authority to make our immigration system work better … Pass a bill." —President Obama

— Barack Obama (@BarackObama) November 21, 2014
Euronews Washington correspondent Stefan Grobe summed up:
"In acting unilaterally just weeks after his party's crushing defeat, Obama is taking a huge risk. Americans generally don't like to see their presidents going it alone, even if they support a pathway to citizenship for immigrants. The Republicans are furious. Some of them want to take Obama to court to block his action or punish him otherwise. But that is risky as well, given the party's shaky standing with Hispanic voters. Whatever happens, the stage is set for an all-out political war that may last until the presidential election in 2016."