Action on malnutrition and obesity called for at international conference.
Comments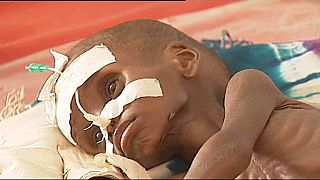 Over 160 million children under the age of five suffer because of chronic hunger. Yet ours is a world of plenty.
Witness the rise in obesity. Figures show 500 million adults fall into that category and the fear is that number will continue to grow.
Those are just two problems which will be addressed among representatives from 170 countries at the 2nd International Conference on Nutrition in Rome organised by the United Nations Food Agency and the World Health Organisation.
"Something is wrong. Ladies and gentlemen, part of our out of balance world still starves to death. Another part stuffs itself into a level of obesity so widespread that it is pushing life expectancy figures backward and pushing the cost of healthcare to astronomical figures," Director General of the World Health Organisation Margaret Chan told the conference delegates.
Developing sustainable agriculture is one plank in a 60-point Framework of Action which is meant to guide national decision making.
Experts will also discuss what they call "hidden hunger". That's when people suffer from a deficiency of nutrients such as vitamin A, iron and zinc. It's reckoned there around two billion in the world.
The action plan stresses "food should not be used as an instrument for political or economic pressure." and points out the need for access to health services for all, including the most marginalised and most vulnerable.
Pope Francis, a fervent campaigner against hunger is expect to speak at the conference on Thursday.