Hungarians hold 'public outrage day' protests
Comments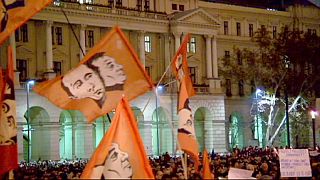 Hungarians held rallies across the country on Monday in a protest dubbed "public outrage day".
In Budapest more than 10,000 marched accusing Prime Minister Viktor Orban of employing corrupt officials, curbing freedom of speech, failing to manage the economy and changing direction by moving away from the EU and towards Russia..
It was the fifth major demonstration in a month.
One protesters said: "The corruption has become widespread in Hungary, and it is impossible to have a normal standard of living."
Euronews' reporter asked whether it was only the fault of the current government?
The protester responded saying: "Over the last decades – as we have heard in the speeches – many bad things happened and the country started to go the wrong way."
While another protester's concerns were more about unemployment.
"I have worked 42 years, I didn't know what unemployment was. But now I see it everywhere and my grandsons are telling me they don't have a job. So, we need to protest somewhere, poor guys have to make a living out of something."
Last month protesters forced Orban to shelve a planned tax on internet usage. Although Monday's rallies were smaller they were widespread – anti-government sentiment fueling them all.
Euronews's reporter Andrea Hajagos who was in Budapest said: "While the demonstration in Budapest and other cities were going on there were also protests in several European capitals, organized by expat Hungarians.."
European cities where similar rallies were held included London, Stockholm, Brussels and Berlin.