Pfizer and Merck team up to work on anti-cancer treatment
Comments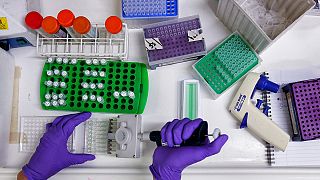 The pharmaceutical companies Merck and Pfizer have signed a deal to develop and market immunology drugs that target cancer.
The two are developing a type of treatment that works by using a patient's immune system to fight malignant cells more effectively.
Pfizer will pay $850m to gain access and share rights to Merck's experimental immunology drug, known as anti-PD-L1 therapies. Merck is also in line to receive up to $2bn in payments based on the future success of the treatment.
The experimental drug works by blocking a tumour's ability to sidestep the body's immune system.
"It is the largest deal in the pharmaceutical industry for a single asset in this stage of development," said Belén Garijo, chief executive of Merck's pharmaceutical division.
The two also plan to work together on Pfizer's anti-PD-1 antibody, another anti-cancer drug. Merck, in turn, will help to promote Pfizer's lung cancer drug Xalkori in the US and other markets.