From Tinseltown to Capitol Hill: When superstars switch to politics
Comments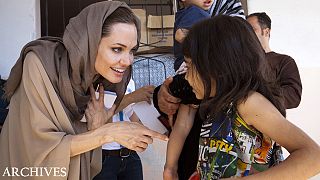 Academy award winning actress Angelina Jolie has told Vanity Fair magazine that she is "open" to pursuing a life in politics, diplomacy or public service.
The wife of actor Brad Pitt and a special envoy to the UN High Commissioner for Refugees (UNHCR), Jolie said that her work as a humanitarian has made her conscious of the fact that politics have to be considered as an option.
Envoy Angelina Jolie joins @Refugees chief to warn of escalating crisis in the Mediterranean http://t.co/Zjbv4z81yBpic.twitter.com/VqnS9bN2ts

— United Nations (@UN) September 15, 2014
"Because if you really want to make an extreme change, then you have a responsibility," she told the magazine in an excerpt from an interview published online on Tuesday.
"But I honestly don't know in what role I would be more useful – I am conscious of what I do for a living, and that (could) make it less possible."
Asked if she sees herself in politics, diplomacy or public service, she replied, "I am open."
Congratulations to #UNHCR Sp. Envoy Angelina Jolie on being made honourary dame by the Queen http://t.co/0hSotXuhGqpic.twitter.com/tbYGYBd1iL

— UNHCR United Kingdom (@UNHCRUK) October 13, 2014
Following in the footsteps of others
If Jolie does decide to switch careers, she would not be the first Hollywood superstar to trade in the red carpet for the corridors of power.
Most famously, Hollywood actor Ronald Reagan made it all the way to the White House, serving two terms as president beginning in 1981.

(ReaganFoundation)
The legacy of Reagan, who died in 2004 at the age of 93, remains strong with his belief in limited government, reduced taxes and military strength still the dominant political doctrine of his Republican Party.
Shirley Temple Black lifted America's spirits as a bright-eyed, dimpled child movie star during the Great Depression but went on to forge a second career as a US diplomat.
With her trademark head of curly hair, Black, who died in February 2014 aged 85, lured millions to the movies in the 1930s, tap-dancing her way through songs like "On The Good Ship Lollipop".
As Ambassador Shirley Temple Black, she was soft-spoken and earnest in postings in Czechoslovakia and Ghana, out to disprove concerns that her previous career made her a diplomatic lightweight.
Like Ronald Reagan, Republican bodybuilder and prolific film star Arnold Schwarzenegger became Governor for California, taking the state's helm in 2003.
But as an Austrian-born immigrant, Schwarzenegger was unable to run for the presidency under the US Constitution, despite a campaign by his supporters to get the rules changed.
Schwarzenegger did perhaps the next best thing, marrying into the family of the late US President John F. Kennedy although he later split from his wife Maria Shriver.
Since leaving office, Schwarzenegger has continued to be politically active.
My remarks after my meeting with @fhollande@Elysee yesterday about our shared commitment to a clean energy future: http://t.co/nDwf0K5pZy

— Arnold (@Schwarzenegger) October 11, 2014
Thirty years after the release of 'Terminator, he is also acting once again, starring notably in "The Expendables" film franchise.
On the 30th anniversary of @Terminator, I want to thank all of you, the incredible fans. http://t.co/X0xRlyhCjr

— Arnold (@Schwarzenegger) October 26, 2014
On the other side of the Atlantic, the late Margaret Thatcher may not have had a movie star background but that didn't stop her contemporaries speaking about the former British prime minister as if she were a cinema icon.
"She has the eyes of Caligula but the mouth of Marilyn Monroe," French President François Mitterrand famously said.
Her press secretary Sir Bernard Ingham, meanwhile, said of Mrs Thatcher: "She was always an attractive woman. She had not merely a film star's attractiveness; she could also behave like a film star when she chose to do so."