Hamilton wins US Grand Prix and takes a step closer to world title
Comments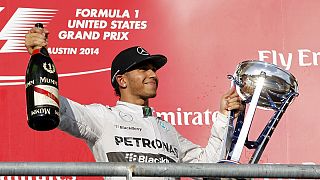 Another race, another Mercedes double. The US Grand Prix joined most other races this season and failed to spring a surprise.
Lewis Hamilton took a huge step towards the F1 world title by claiming victory in Austin, Texas.
The script for the race was known in advance; an absolute domination by Mercedes, who never relinquished the leading two spots.
Nico Rosberg started in from pole but as soon as Hamilton saw an opportunity, he overtook his team-mate.
After 24 laps, the race was all but over.
It was a matter of time until the Englishman crossed the finish line to celebrate his tenth win of the season, and fifth victory in a row.
He now has a 24 point advantage over Rosberg, who still harbours hopes of winning the world title.
But With 75 points available from the two remaining races it could prove a tall order unless Hamilton lends an unwitting helping hand.