Apple CEO Tim Cook: "I'm proud to be gay"
Comments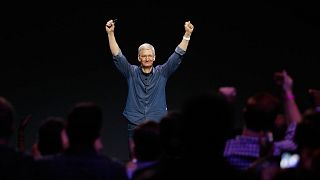 Apple chief Tim Cook has revealed he is gay – sparking a wave of praise from colleagues, peers and online supporters.
Mr Cook said he is proud to be homosexual and that it was "among the greatest gifts God has given me".
The chief executive said he was trading off his closely-guarded privacy to advance civil rights.
This week Mr Cook challenged his home state of Alabama to ensure the rights of gay and transgender people. In a speech he claimed Alabama citizens can still be fired based on their sexual orientation.
Mr Cook, writing in Bloomberg Businessweek, said: "I'm proud to be gay, and I consider being gay among the greatest gifts God has given me."
Citing Robert F. Kennedy and Martin Luther King he added: "I don't pretend that writing this puts me in their league. All it does is allow me to look at those pictures and know that I'm doing my part, however small, to help others. We pave the sunlit path toward justice together, brick by brick. This is my brick.
"I don't consider myself an activist, but I realize how much I've benefited from the sacrifice of others. So if hearing that the CEO of Apple is gay can help someone struggling to come to terms with who he or she is, or bring comfort to anyone who feels alone, or inspire people to insist on their equality, then it's worth the trade-off with my own privacy."
Lord Browne, former BP chief executive, who resigned after being forced to admit his sexuality in 2007, told Reuters: "By deciding to speak publicly about his sexuality, Tim Cook has become a role model, and will speed up changes in the corporate world."
Apple Chairman Art Levinson said Cook's announcement was "courageous".
"(His) decision to speak out will help advance the cause of equality and inclusion far beyond the business world," Levinson was quoted by CNBC as saying. "On behalf of the board and our entire company, we are incredibly proud to have Tim leading Apple."
TIMCOOKSPEAKINGABOUTGAYRIGHTS ON OCTOBER 27
SOCIALMEDIAREACTION
53% of LGBT workers nationwide are in the closet at work. Thank you Tim_Cook</a> for making it easier to come out. <a href="http://t.co/r6EBtgPvU3">http://t.co/r6EBtgPvU3</a></p>&mdash; Chad Griffin (ChadHGriffin) October 30, 2014
Inspirational words from Apple CEO Tim Cook on being gay, and standing up for equality http://t.co/5UXOc6vGY9

— Richard Branson (@richardbranson) October 30, 2014
Well done, Tim Cook: "We pave the sunlit path toward justice together, brick by brick. This is my brick." http://t.co/3t0JE5fWC0

— Tim O'Reilly (@timoreilly) October 30, 2014
Tim Cook just publicly declared he's gay and Wall Street doesn't care. That's exactly as it should be. http://t.co/6qfPbMtIG0

— Seth Fiegerman (@sfiegerman) October 30, 2014
tim_cook</a> = Courageous&#10;Proud to work for you and be your friend&#10;<a href="http://t.co/1yZEqvke9n">http://t.co/1yZEqvke9n</a></p>&mdash; Philip Schiller (pschiller) October 30, 2014
Tim Cook has just announced that he is gay. In other news, Samsung says they are even MORE gay and were the FIRST to be gay.

— GuyCodes (@GuyCodes) October 30, 2014