Pulling no punches: Mike Tyson on The Global Conversation today 23:45 CET
Comments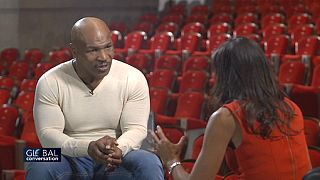 From fame to infamy in just a few years, boxing legend Mike Tyson, 'the baddest man on the planet' as he was known, is now taking to the stage retelling his life in a raw one man show.
The controversial former heavyweight champion met euronews' Isabelle Kumar for an interview in The Global Conversation where she asked him some of your questions collected from social media. Tyson exposes some of the ups and downs of his notorious life in and outside the ring. He also explains the inspiration for his dramatic career change and reveals some of his plans for the future.
Don't miss it on air Tuesday October 14 at 23:45 CET and throughout the following days on euronews and euronews.com.