Five must-see clips from Hong Kong protests
Comments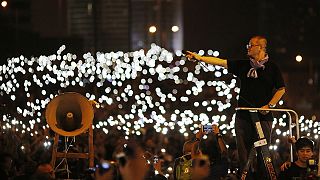 Thousands of people have hit the streets of Hong Kong in the past week to protest over democratic reforms.
Protesters want open nominations for the election of Hong Kong's next chief executive in 2017. But Bejing insists voters will choose from a list of candidates decided upon by a committee.
China's is likely to be most worried about protesters on the streets – but what about online dissent? Here we pick five of the best videos from the Hong Kong protests, also known as the #UmbrellaRevolution.



OCCUPYING

TOP

SPOT




Expertly-produced footage of the Occupy Central protests in Admiralty, a downtown business district of Hong Kong.

It is wonderfully-shot, bringing some much-needed colour from the scene that you don't get to see in standard news reports.

The scene at the end, with lights stretching into the horizon of the gathered crowds, is worth a watch alone.







Credit: Luke Kelly/YouTube.



ABOVE

AVERAGE

?
You might have thought unmanned drones were only used by the United States to bomb targets in northwest Pakistan.

But the footage from this device, from September 29, shows the scale of Hong Kong's protests, difficult to ascertain otherwise.






Video credit: Facebook/Nero Chan



PROTESTERS

PEPPERED

?

This is important footage, providing a snapshot of protesters' clashes with police and the latter's apparent use of pepper spray.

This clip shows police snatching umbrellas and spraying protesters with pepper spray before demonstrators flee the barricades.

One returns, and with his back to police, addresses the crowd. An officer then pulls the demonstrator's arm towards him – and pepper-sprayed him directly in the face.




Video credit: Kenneth Li @DBC MM



OFF

-

LIMITS

HONG

KONG

The unintended consequence of the protests in Hong Kong is that the blockades have left some of the city's streets eerily empty.

This clip shows one boy's wonder and happiness at discovering a tunnel normally off-limits, on an island which is one of the world's most densely-populated.



Video credit: YouTube/Corinne Vigniel



"

DON

'T

GIVE

UP"

Claudia Mo, a member of Hong Kong's legislative council, told demonstrators to stand strong in the face of government opposition during emotional remarks in Hong Kong's Mong Kok district on October 1. "This time, it [the government] is coming at us," she said. "Hong Kongers, don't give up. I am emotional, don't give up." Later, she said it was "shameful" that police said they had used 87 tear gas canisters against the protesters.




Video credit: YouTube/theevenproduction (若葉製作)