'Remarkable increase' in young Europeans learning Spanish
Comments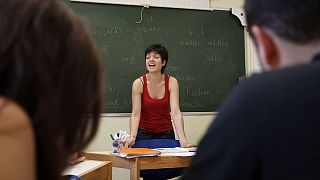 Teaching of Spanish in Europe's secondary schools has enjoyed a 'remarkable increase', new figures reveal.
The data, released to coincide with European Day of Languages on September 26, shows the percentage of EU pupils studying the language jumped by 64.9 percent in the seven years leading up to 2012.
Experts say Spanish attracts a wider range of students than French or German and is helped by the 'increasing economic strength' of Latin American countries.
English, overwhelmingly the most popular, was taught to 96.7 percent of pupils at 'lower secondary level', up 7.5 percent since 2005.
French jumped 13.3 percent but the proportion of pupils learning it decreased in 14 EU countries, including Portugal, Greece and Bulgaria.
German increased by 15.7 percent, to 22.1 percent of pupils, according to the figures published by Eurostat.
Simon Coffey, lecturer in modern languages at King's College London, told euronews: "Spanish is enjoying increasing popularity across the world now.
"I often hear from people that 'it's more useful than French because more people speak it'. While this is true in terms of mother-tongue speakers, numbers alone do not, historically, determine the importance or prestige of a language, otherwise we would all have been learning Hindi and Arabic during the 20th century.
"Rather, economic power and visibility through cultural media are often better indicators. Spanish is now benefiting from the increasing economic strength of Latin American countries, but even more importantly I would say, is the cultural presence of Spanish through US based Latino culture.
"The wide appeal of Spanish certainly seems to attract a wider range of students, and can thus be considered to have a more democratic appeal, whereas French and German suffer in some contexts from connotations of elitism."
Eurostat said in a statement: "The most remarkable increase in relative terms during this period was recorded for the learning of Spanish, from 7.4 percent of the total pupils at lower secondary level learning it in 2005 to 12.2 percent in 2012."
The figures suggest Portugal is a good example of the trend towards learning Spanish. The percentage of pupils learning it jumped from 1.1 to 21.6 percent between 2005 and 2012. It was the only EU country to see a fall in the number of youngsters learning English.