Egyptian cleric condemns terror acts
Comments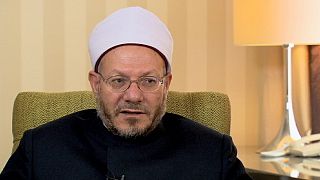 As the barbaric acts committed by the self-styled Islamic State intensify, the Grand Mufti of Egypt, Sheik Shawky Allam, is calling on Europe to bring the terrorists to justice.
Our Charles Salamé asked the Grand Mufti about his stance on terrorism and the young Europeans who are travelling to fight in Syria and Iraq.
Charles Salamé, euronews
"Your Eminence Sheik Shawki Allam, Grand Mufti of Egypt, welcome to euronews.
"Today people are killed in the name of religion. Do you consider the organisations that spread terror in society and in Arab countries have the right to act under the Islamic flag?"
Grand Mufti of Egypt, Sheik Shawki Allam
"Those who observe these acts of terrorism, who take note of how groups such as ISIL (Islamic State of Iraq and the Levant) act and look at their customs, will discover that these organisations have nothing to do with the true Islamic religion.
"All of the religious justifications given by such organisations conflict with the real scientific standard that explains the fundamental texts of Islam.
"For this reason and since the emergence of these organisations, we have said that people must not, under any circumstances, allow the 'Islamic State qualities' these organisations assign to themselves to catch on and become the norm.
We've already said that this description is false and and we've called on the media to correct it by giving the title 'al-Qaeda offshoots'."
euronews
"So for you, these are organisations which operate under the Muslim banner but don't act according to the commandments set out by the religion?"
Grand Mufti of Egypt, Sheikh Shawki Allam
"These organisations don't act on behalf of Islam. Islam respects mankind, civilisation and structure and does not ever call for destruction, massacre or deportation."
euronews
"Your Eminence, let's go back to a subject that is very important on a European level: terrorism. What is your message to those who wish to fight side by side with these terrorist organisations?"
Grand Mufti of Egypt, Sheikh Shawki Allam
"We can detect many dangers when we take note of recent reports which highlight the capacity and number of those who want to fight because they perceive it to be an act of jihad.
"Their conception is totally different from the real meaning of 'jihad', which has been established through studies and the scientific explanations of Sharia.
"What is happening is very alarming for Europe. We hope that European leaders are aware of that. We want them to be conscious of this dangerous problem because terrorism does not only concern a specific area, but is spreading to every nation."
euronews
"You ask Europeans to be aware. What action do you suggest they take?"
Grand Mufti of Egypt, Sheik Shawki Allam
"Europeans must turn to institutions which deal with teaching Islamic thought, such as the Al-Azhar Al-Sharif University in Cairo. It's the right path. Institutions steeped in history will offer an explanation and true understanding of the Islamic religion."
euronews
"And so, you believe the legitimacy given to Al-Azhar will have an influence on imams in Europe?"
Grand Mufti of Egypt, Sheik Shawki Allam:
"We will attract Europeans' attention and it's up to them to evaluate the situation. But the reports reaching us are very disturbing."
euronews
"Your Eminence, what do the fatwas have to say and how can we limit those who inspire young Europeans to support jihad?"
Grand Mufti of Egypt, Sheik Shawki Allam
"Our institution in Egypt and the Al-Azhar University are taking steps to spot ideas that are spreading in the media, as well as calls for violence, destruction and devastation. Our job is to shut down (dismantle) these ideas and give clear advice on each topic raised."
euronews
"Do you believe these youths are misled for religious or political reasons? "
Grand Mufti of Egypt, Sheik Shawki Allam
"A host of factors contribute to this situation: ignorance, poverty, the need, or even desire, to assume any of the powers or the influence of a specific political movement.
"So they appeal to young people. It could also be that some are won over by a particular religious idea, which has not been properly understood. Several, very complex factors are in play, which require greater study and research."
euronews
"What is your message to these people?"
Grand Mufti of Egypt, Sheik Shawki Allam
"We condemn all acts of terrorism committed in the name of Islam. We don't recognise these acts and we don't authorise them. Such acts are in total contrast to the reality and understanding of the Islamic religion. And, as I said at the start of this interview, any act calling for destruction, murder, deportation and annihilation is incompatible with the true notion of Islam."