Why should NASA have all the fun? Send us your Supermoon snaps!
Comments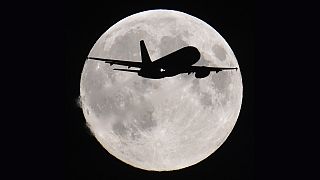 Last night was your last chance to see one of 2014's Supermoons, three of which have graced our night skies this year. You could hardly have missed it, as it was 14% brighter and 30% bigger than normal.
Euronews set up its own telescope and packed a thermos and sandwiches to bring you the best pictures in "No Comment Live" last night, but of course you may have taken some shots of your own. We would love to see them, so send your pictures to witness@euronews.com or on Twitter to @euronews using #supermoon, and we will feature the best in our image gallery.
Many tweets with pictures are available as the Supermoon was already visible on Sunday night.