American fast-food strikers mobilise for living wage
Comments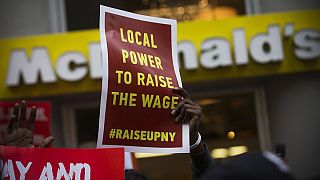 Fast-food workers in more than 150 cities in the United States are holding a national day of protest to press for a wage increase to $US15 an hour.
The 'Fight for 15' movement said employees would either not show up for shifts or would walk off.
Many are also fighting for the right to unionise.
The protests come as Democrats in Congress seek to raise the federal minimum wage ahead of November's mid-term congressional elections.
A recent report by the Economic Policy Institute think tank found the typical worker in the restaurant industry makes $US10 an hour compared to $US18 an hour typically earned in other industries.
The Service Employees International Union said fast-food workers are even poorer, earning an average of less than $US8 an hour (6.08 euros).
The minimum wage in the UK (according to the government website) is the equivalent of around 7.90 euros, or roughly $US10.38.
In France it is 9.53 euros (according to Eurostat) or $US12.53 but is far lower in many other countries in the EU. In Spain, for example, it is less than half that, and the nominal minimum hourly wage in Romania comes to around $US1.70.
That will just about cover an order of fries at a US fast food chain. Purchasing power parity varies.
As they appeal to corporations directly, across the US it is expected that workers will engage in picketing, "teach-ins" at restaurants and impromptu press conferences.