Two held over suspected gang rape in india
Comments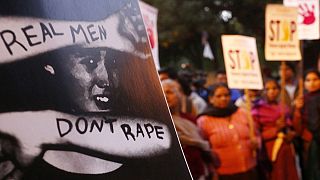 A Indian girl who was humiliated by village elders for complaining that her father had been poorly treated has been found dead near a railway track in West Bengal's Jalpaiguri district on Tuesday.
Police are awaiting an autopsy report but they suspect the 15-year-old was gang-raped and murdered.
Members of her family told police there were threats of "dire consequences" by the village court when her father had been asked to repay a loan. The child allegedly tried to intervene to stop him from being beaten as punishment.
As a form of humiliation she was ordered by the court to spit on the ground and lick it up. Soon after she is said to have disappeared and her body was found the next morning.
Kunal Agarwal, the Jalpaiguri superintendent of police, said: "We have arrested two neighbours of the girl though the case was first registered by the Railway Police. She was found by the track and it could be that her clothes were torn because she was dragged by a train for 500 feet. But we are not ruling out murder since she went missing after the feud with the village court.
"Whether she was raped can be ascertained from post mortem and we are waiting for that report," Agarwal said.
This is the latest suspected case in a series of incidents involving violence against women on the sub-continent. India is still reeling from the 2012 fatal gang rape of a student on a moving bus in Delhi. In January this year in West Bengal's Birbhum district a woman was allegedly gang raped by 13 men on the orders of the village court.
Recently a member of India's ruling party was quoted as saying rapes happen "accidentally".
"Such incidents [rapes] do not happen deliberately. These kind of incidents happen accidentally," Ramsevak Paikra reportedly said.
These remarks follow quotations from Babulal Gaur, the home minister of the BJP-ruled Madhya Pradesh state, who said about rape "sometimes it's right, sometimes it's wrong".​