EU leaders name Donald Tusk European Council president
Comments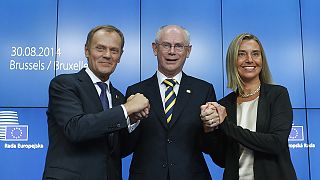 Polish Prime Minister Donald Tusk will be the next President of the European Council. He takes over from Herman van Rompuy, who has made the announcement at a press conference in Brussels.
Italian Foreign Minister Federica Mogherini will replace Baroness Cathy Ashton as the EU's High Representative of Foreign Affairs.
Tusk, who doesn't speak French or English very well, said he'll be brushing up on his language skills before taking up the post in December, and that he can't imagine an EU without Britain.
Both Tusk and Mogherini will work closely with the new European Commission President, Jean-Claude Juncker.