Watch: huge plume of smoke after eruption in Papua New Guinea
Comments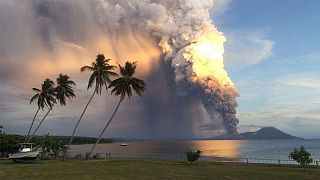 This is the amateur footage of a volcanic eruption in Papua New Guinea.
It was captured earlier on Friday (August 30) morning, after Mount Tavurvur on East New Britain Island erupted hours before dawn, according to a bulletin from the Rabaul Volcanological Observatory.
It comes as Iceland raised its aviation warning level near the Bardarbunga volcano to red after an eruption overnight. In 2010, an ash cloud from the Eyjafjallajokull volcano closed much of Europe's airspace for six days.
The Papua New Guinea eruption caused some aircraft to alter their flight paths.
"Flight paths between Sydney and Narita (Tokyo) and Sydney and Shanghai have been altered as a result of the volcanic ash cloud over Rabaul in eastern Papua New Guinea," Qantas spokeswoman Sarah Algar told Reuters.
"The QF21, QF22 and QF130 will now fly over central Papua New Guinea to avoid the cloud."
Authorities have not issued an evacuation order for the town closest to the volcano, Rabaul, which was destroyed in 1994 during a previous but more severe eruption.
"People still live here, we have to get on with our daily lives," Rabaul Hotel employee Susie McGrade told Australia's ABC radio.
"We're up on the rooves, cleaning off the ash, we've got to save our property, try and get back to normal, so what can we do? We've got no where else to go."
There have been no reports of injuries.
#Tavurvur this AM, #Rabaul district affected so far, BurnetInstitute</a> staff all ok, hoping all closer got out <a href="https://twitter.com/hashtag/PNG?src=hash">#PNG</a>. <a href="http://t.co/5icUSLzEUQ">pic.twitter.com/5icUSLzEUQ</a></p>&mdash; Shelley Hendel (Shelleyjlh) August 29, 2014
Credit: Shelley Hendel/Twitter (picture); Facebook/ Jason Tassell (video)