Boston bombing suspects' sister arrested
Comments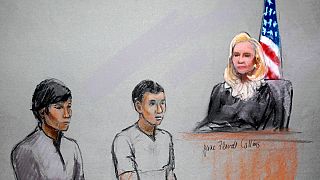 Aliana Tsarnaev, the sister of the alleged perpetrators of the 2013 Boston Marathon attack is facing prosecution for aggravated harassment, a New York police spokesperson says.
Tsarnaev was arrested for threatening to "throw a bomb" at a woman during a phone call. She has since been released, police confirm.
"I know people who can come and throw a bomb at you," the 23-year-old is believed to have said. New York police say she was in conflict with a Harlem resident.
Her two brothers are accused of committing an attack at the finish line of the April 2013 Boston marathon. Three people died and 264 were injured as a result. Dzhokhar Tsarnaev was arrested following a police manhunt during which his brother Tamerlan was killed in a shootout with police.