Uefa charges Italy football chief over racist remarks
Comments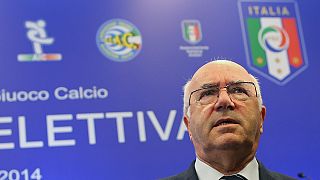 Uefa says it is to launch disciplinary proceedings against Carlo Tavecchio, president of the Italian soccer federation (FIGC), into alleged racist remarks made during his election campaign.
The 71-year-old was voted in as president of Italy's governing football body on August 18 with 63.63% of the vote. During the run-up to the election, he made a jibe about a fictitious player, saying he "previously ate bananas and then suddenly becomes a first team player with Lazio".
Uefa said in a statement: "Carlo Tavecchio … has today been personally informed by Uefa about the decision of its Chief Ethics and Disciplinary Inspector to open a disciplinary investigation on alleged racist comments made by him during his FIGC presidential election campaign."
Europe's governing football body said a report would be handed to its ethics and disciplinary panel "to render a decision about this matter".
Former France midfielder Patrick Vieira said he found it "hard to believe" that Tavecchio had been voted in with such a large percentage.
Vieira, who played for Juventus and Inter Milan, says the election shows how far away the Italian football authorities are from dealing with discrimination.
"Sixty-three percent of those that voted are admitting that they are not fighting racism or that they don't want to fight these problems. I played in Italy for years so I know the issues, I saw the issues," added Vieira.