There are at least two sides to every story. On Wikipedia, one topic can be narrated in dozens of languages, often with very revealing discrepancies between versions.
Since the start of the latest Israel military offensive in Gaza, contributors from across the spectrum of languages and opinions have taken to the online encyclopaedia, which is open to anyone to edit, to tell the story as they want it told.
The Hebrew and Arabic versions of the "2014 Israel–Gaza conflict" page have, quite unsurprisingly, differing editorial angles. Even leaving language aside, the two pages give contrasting accounts in picture form.
The Hebrew Wikipedia page on the conflict opens with a photo of the Iron Dome anti-missile shield as it intercepts a mortar fired from Gaza towards Ashdod. Scroll down and you will see a graphic showing the range of various types of rockets used by Hamas militants and how far they can reach into Israeli territory. Beside this is a graph showing the number of shells fired from the strip over past 18 months.
It goes on to show a photo of cars destroyed in Ashdod on the third day of the military operation, while another depicts what remains of a house that was hit on the fourth day in the southern Israeli town of Be'er Sheva. In an effort to provide a degree of balance, the page gives a glimpse of the destruction in Shuja'iyya when 12 Israeli soldiers were killed and at least 68 Palestinians died. In addition the page carries footage of the bombing of a house in Gaza City.
On the whole there is little photographic reference to the more than 1,800 Palestinians who have been killed and 10,000 wounded over the 30 days. Of the 22 images on the page, there are six photos that depict rocket attacks on Israeli towns such as Ashdod and Sderot and two graphic illustrations of Palestinian rocket deployment. There are four photos of IDF tanks or artillery and one of an Israeli sniper taking aim. There are also photographs posted by the IDF illustrating the two principle reasons Israel is giving for its military operation: an image of a bag of weapons with the caption "These weapons were seized from terrorists attempting to carry out a massacre in an Israeli community" and a photo of a tunnel captioned "used by Hamas to carry out attacks on Israelis."
While the Hebrew page is thorough in presenting what the IDF says is evidence of Hamas' atrocities, there is little – photographically in any case – that alludes to what is happening on the Gazan side of the border. Two photos show the aftermath of Israeli strikes on Palestinian houses and there is a screenshot of what is referred to as the "Shuja'iyya massacre" posted by the user 'محمد الفلسطيني' who claims to support the Arabic language version of Wikipedia.
The same user has also posted to the Hebrew page a photo of protesters in Ireland decrying what they say is an Israeli genocide, while there is also a picture of a demonstration in Helsinki, Finland in support of Israeli military action in Gaza.
There is, however, a lack of any graphic images of killed or wounded Gazan children or civilians any where on the Hebrew page.
1. The Hebrew page shows plenty of pictures of damage caused to Israeli property by Hamas rockets...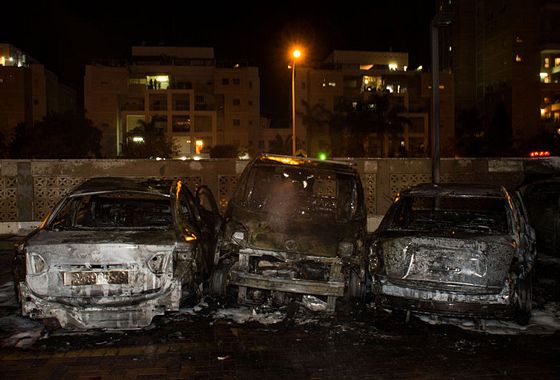 2...but no images of civilian casualties in Gaza.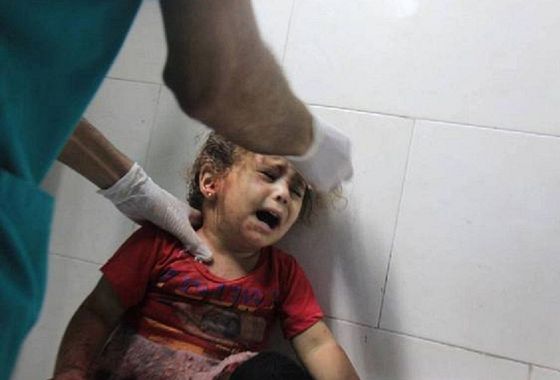 3. While the Arabic version includes several pictures of pro-Palestinian demonstrations across the world, such as this one in Berlin...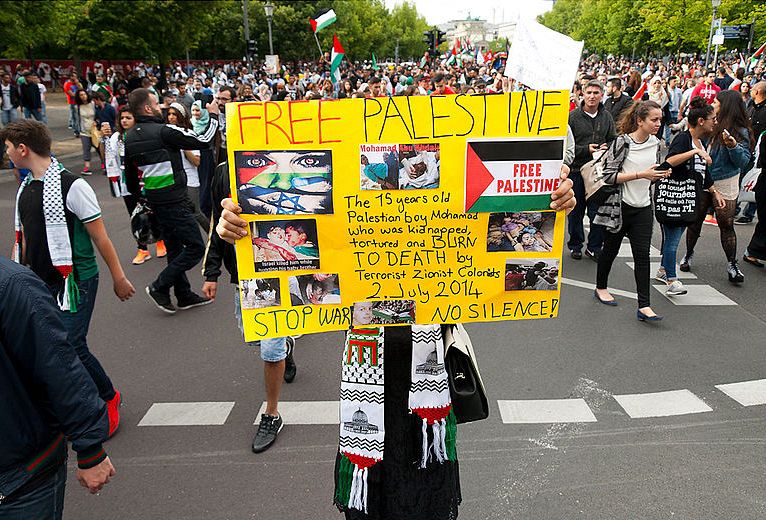 4...there is no photo evidence on the page of Hamas-built tunnels or Qassam rockets.
The Arabic version, in contrast, leads with a picture of the bombed Kaware family home, in which 11 people were killed.
Prominent on the Arabic page are graphic pictures of dead and injured Palestinians. Like the Hebrew page there are 22 images. Unlike it though, there is plenty of evidence of civilian suffering; two (of which one is extremely graphic) show dead bodies. There are three photographs of very young injured children and six that show damage to Palestinian buildings, including the same screenshot posted by 'محمد الفلسطيني' to the Hebrew page. Of the three photos of protests around the conflict, all show pro-Palestinian demonstrations.
Where the Hebrew page is lacking in pictures of civilian suffering in Gaza, the Arabic page has no illustrative evidence of either rockets being fired into Israel, damage to Israeli buildings or Hamas infiltration tunnels.
The corresponding English language page does offer more balance in its photographic narrative of the Gaza conflict, no doubt thanks to the moderating operation being carried out by the editors of Wikipedia. Photos of damage to Israeli buildings and infrastructure are set next to photos of Gazan houses reduced to rubble; an image of an injured Palestinian child is set beside that of a terrified Israeli child being protected by IDF soldiers during a rocket attack; a photo of a pro-Israeli demonstration is placed alongside another of a rally in Tel Aviv decrying the IDF's Operation Protective edge.
As is to be expected, Wikipedia tells viewers of the English-language page that "The neutrality of this section is disputed" and there is a lively but civilised discussion about how to improve the page's impartiality.
Photo and video images are among the most effective weapons in the war of propaganda in this conflict and the nature of Wikipedia allows the parties on either side of the debate to put forward their subjective views. It is up to the Wiki community to moderate and blend these contributions into as objective a narrative as possible. At time of publication there are 43 language versions of the "2014 Israel-Gaza conflict" page and, thanks to the pictures, it doesn't take a polyglot to understand the subtleties among them.