The Battles of the Hindenburg Line
Comments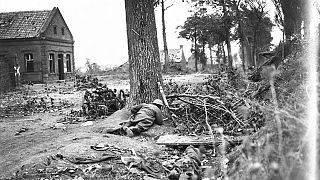 1918: September 26-October 17
The Hindenburg Line consisted of six defensive systems established during the winter of 1916-1917 from Arras to Lafaux. Built between the north coast of France and Verdun, near the border with Belgium, the Line was the last and strongest of the German army's defence. Though the entire line was extremely well fortified, its southern part was more vulnerable to enemy attacks, as it included the Saint Quentin canal.
On September 18, a first offensive was launched when Australian troops attacked the heavily fortified German defences and machine-gun posts. Supported by artillery barrages, the Allies breached German positions, suffering only 1,000 casualties and taking over 4,000 prisoners.
A second attack began with the heavy and consistent bombardment of enemy lines, using 1,637 guns along a nine kilometre-long front. In 24 hours, the British fired a record 945,052 shells. After taking the Saint Quentin canal on September 29, the medley of Australian, British, American and French troops broke through German positions in the centre of the Hindenburg line.
Supported by tanks, artillery and aircraft, they attacked a strongly defended sector at Bellicourt. The fighting lasted four days, with heavy losses incurred on both sides and the Germans ultimately forced into retreat. On October 4 the German government requested an armistice. Four days later, the German armies were ordered to retire from the rest of the Hindenburg line.