First Battles of Marne and Aisne
Comments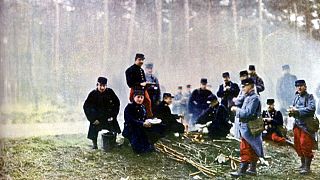 1914: September 6
As German troops marched on Paris, the French capital prepared itself for a siege. It was September 6, 1914 and the French troops, supported by the British, were tired after a 10 to 12 day retreat.
While the Germans set out to encircle the city, French commander Joffre got his forces ready for a counter attack. The consequent battle, the Battle of the Marne, claimed many lives but by its end the Allied troops had managed to force a gap in the opposition line with the help of French infantry troops recently arrived from Paris in taxi cabs (the first time automobiles had ever been used significantly to aid warfare). The Germans began to retreat on September 9.
More than two million men are reported to have seen action in the Battle of Marne with some 250,000 French losses and a similar number estimated for the Germans. Despite the high number of fatalities it was regarded as a victory for the Allies who had succeeded in putting an end to the German 'Schlieffen plan' that envisaged a quick victory on the Western Front before dealing with the Russians in the east.
Following the battle the Germans pulled back to the northern banks of the River Aisne where they dug trenches that would remain long into 1918. Allied forces pursued their enemy but the chase was weak, attributed to growing fatigue and caution, and they didn't mount a full follow-up attack until September 12.
By the time the French and British caught up with the Germans their troops were well entrenched and had received the reinforcement of another army. The 'Battle of Aisne' struggled on for more than two weeks but no real gains were made by either side. The new tactic was to move northwards in an attempt to attack the exposed flank of the opponent, the two sides would continue this series of manoeuvres until November in a period known as 'The Race to the Sea.'