Britain takes control of Jerusalem
Comments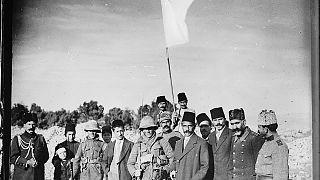 1917: December 9
On December 9, led by British Commander in Chief Sir Edmund Allenby, British forces took control of Jerusalem after only a day's fighting against demoralized Turkish troops that took place some miles from the city itself in order to avoid damaging it. Allenby, following strict instructions from London as to how to respectfully enter Jerusalem, entered on foot, pledged to safeguard all holy sites, and dispatched Muslim forces to specifically guard the Dome of the Rock.
Allenby's forces read aloud a proclamation declaring martial law in English, French, Arabic, Hebrew, Russian and Greek, while promising no further damage to Jerusalem. The capture of the Holy city boosted morale on the struggling Western Front; Jerusalem was tactically important to Ottoman control over the region and rendered the Yilderim Force toothless.
The capture of Jerusalem was a vital victory for Allied morale, coming after the departure of Russia from the war along with the losses at Cambrai and Caporetto, and effectively shifted the focus to the Western front.