One hundred years ago, the Battle of Verdun
Comments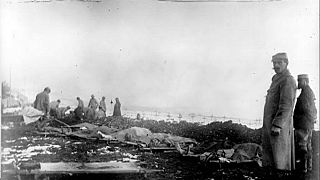 1916: February 21
While the Western Front struggled under the harsh conditions of trench warfare, German Chief of Staff Erich von Falkenhayn argued that the war could only be won with a decisive defeat against the French. Falkenhayn believed this would be enough to convince Britain – which he saw as the most powerful of the Allies – to negotiate or surrender.
The chosen target was the fortress city of Verdun, strategically valuable because it could be attacked from three sides and symbolically important to the French people. The plan was to inflict heavy bombardment on the city to draw in reinforcement troops from other regions and stretch thin the French defence. Falkenhayn famously admitted he wasn't looking for a quick victory but to "bleed the French white".
On February 21 as the attack began, 100,000 shells rained down on Verdun every hour. By the end of the second day the Germans had overrun the second line of French trenches but despite their initial gains of territory the battle settled into a stalemate. By the fourth day both the French and the Germans were suffering from a casualty rate of 60 percent, a number that would only continue to rise as the conflict dragged out over 10 long months.
In the latter half of the year changes in command on both sides brought a shift of pace and the French began to win back some ground that had been lost in the early stages of the battle. Between December 15 and 18 the French took 11,000 prisoners and finally on December 18 the Germans called off the attacks.
The number of casualties inflicted during the battle was estimated at around half a million on each side, half of which were fatalities. Other than dramatically damaging each other's armies, the longest single battle of World War I had brought no tactical gains to either the Germans or the French.