Hamas believes 'important political gains to be made' by striking at Israel
Comments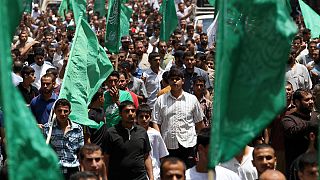 Israel's bombardment of Gaza has resumed.
This came after the political and military wings in the Palestinian territory's ruling Islamist party Hamas rejected a ceasefire proposal made by Egypt.
Israel had accepted the proposal.
Hamas demands that an economic blockade of Gaza end, that the Rafah border crossing be re-opened and that prisoners be freed as conditions for accepting a cease-fire.
Hamas spokesman Sami Abu Zuhri said: "The one-sided announcement by the Israeli occupation to end the fighting means nothing for us in Hamas. We are not asking for an end to the fighting but to the injustices inflicted on the Palestinians in Gaza."
Hamas has steadfastly maintained a communication strategy stating it defends the population, as part of remaining politically dominant in the face of other movements struggling for traction in the Gaza Strip.
Hamas portrays itself as the sole indispensable force standing up to the enemy and defending the Palestinians' interests.
That claim worked better when Hamas had powerful friends in neighbouring Egypt.
Since the army ousted Muslim Brotherhood-linked President Mohammed Mursi and held elections which instated Field Marshal Abdel Fattah al-Sissi in his place, Hamas-Egypt relations have soured.
This week Cairo only let basic supplies across its border for the general population.
Diplomatic isolation has not neutered Hamas's ability, however, to fire rockets supplied by Iran or Syria, for instance, into Israel.
A civilian at the Erez border crossing was the first Israeli fatality of the conflict, while Wednesday morning strikes by Israel were reported to have pushed the total Palestinian death toll above 200.
There has been no order for Israeli ground movement. That would likely claim far more civilian lives.
There are also concerns that might even see Hamas replaced by more radical groups.
To examine the reasons for Hamas's actions, euronews spoke to Hasni Abidi, Director of the Geneva-based Study and Research Center for the Arab and Mediterranean World.
Laurence Alexandrowicz, euronews: "More than 200 deaths in a week, terrible destruction: does Hamas have an interest in relaunching a new war? What's motivating it?"
Hasni Abidi, Study and Research Center for the Arab and Mediterranean World: "Hamas is seeking to take advantage of today's escalation which is certainly an escalation by both sides, from the most extremes, and obviously it thinks there are very important political gains to be made. Not accepting the peace proposal is much more important and advantageous for Hamas than accepting it. This will strengthen its political position – it's still trying to get the blockade entirely lifted – and above all it will weaken its partner, the Palestinian Authority."
euronews: "Last night the houses of four Hamas dignitaries were destroyed by the Israelis. Tsahal (the Israeli Defence Force) has been crushing the Gaza Strip for a week now, yet the (Hamas) rockets don't stop. Where does this capacity for resistance come from?"
Hasni Abidi: "The balance of military power today is certainly in Israel's favour, but Hamas has surprised everyone including the Israeli military. I think Hamas had been preparing its strike for several years. We think that over the last two years, and notably also after the departure of (former Egyptian president) Mursi, Hamas told itself that the international situation is not in its favour because it's losing all its allies and that it absolutely had to prepare for the crucial moment, the confrontation with Israel. Of course it has kept important links with its former sponsors, like Iran for example."
euronews: "Let's then talk about support for Hamas: given the situation that's evolving in Syria or in Iraq, are the Hamas islamists stronger?"
Hasni Abidi: "You know, the Palestinian jihadists, Islamic Jihad or Hamas, are a national phenomenon, and their struggle is national. It is very difficult to have links with the international jihadist movement, notably with what is happening in Syria and in Iraq. However the achievements of the Islamic State in Iraq give some ideas, above all to Islamic Jihad. As they think that today the Arab states are weak and that these states can do nothing for their cause, they absolutely had to go into action."
euronews: "A Hamas official, talking about a possible Israeli ground offensive, said this phrase recently: "That's the resistance fighters' dream, Gaza will be their graveyard". After all this death, injury and destruction, do the people of Gaza still support Hamas' position?"
Hasni Abidi: "There is a will on the part of the majority of the population to be done with it, and to get a lasting ceasefire, above all with well-documented conditions: the opening of border points at least, and the end of the blockade, not forgetting the release of prisoners. Secondly, people in Gaza can't do very much, because we know that Hamas is not only a political party but also a military organisation, and an economic structure, and daily life is determined by that movement, following the withdrawal of the Palestinian Authority. That's why, despite everything there is almost a fusion between the population in Gaza and Hamas by default because there is no other perspective… and above all when the only crossing point with Egypt is closed, it becomes very difficult for people to rebel against Hamas."