Who gets the most time off in Europe?
Comments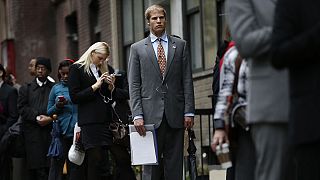 British workers get just eight public holidays a year, putting them among those with the fewest annual days off in Europe.
They are on a par with the Netherlands, Ireland and Portugal, a euronews analysis of newly-published figures shows.
The data is contained in a report by the European Industrial Relations Observatory (EIRO) on working conditions.
It shows Spain, with 14 days, has the most public holidays, followed by Cyprus, with 13, and Croatia 12.
But, when you add paid annual leave, the French and Germans come out best, getting around 40 days of time off each year, according to EIRO.
Belgium, with 29 days, and Romania, with 30, are among the worst off.
Britain's low number of public holidays prompted a campaign for a new one to be introduced on St George's Day (April 23).
It was launched in 2006, but has not had any success, yet. A petition on the government's website attracted just 193 signatures.
[continues below]
The figures also include details on weekly hours worked across Europe – an area where Romania is again one of the worst off.
Its workers, doing 41.2 hours a week, were the hardest-pressed in the EU, according to the figures.
Luxembourg is next with 41 hours a week, followed by Britain with 40.8
That compares with France, at 37.4 hours, the lowest.
But the European Trade Union Confederation (ETUC) says there are cases where junior doctors are having to work more than 100 hours in a week and claimed there was a 'clear need to end excessive working hours in Europe'.
Julian Scola, head of press and communication at ETUC added: "Competition between countries in terms of working time or other conditions is not acceptable.
"It is important as a first step to ensure that European minimum standards – the Working Time Directive – is implemented in practice in all EU countries."
The EU's working time directive says, among other things, weekly working hours must not exceed 48 hours on average.