JK Rowling pledges €1.24 million to Scotland's anti-independence campaign
Comments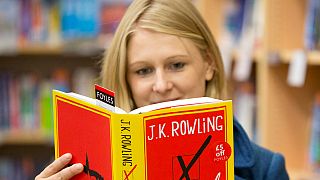 Best-selling author JK Rowling has donated £1 million (around 1.24 million euro) to Scotland's anti-independence campaign 'Better Together'.
Rowling first publically pledged her support for remaining in the United Kingdom earlier this year.
Although born in England and raised on the Welsh border, the creator of the Harry Potter series has lived in Scotland for 21 years and currently resides in the capital, Edinburgh.
In a statement on her website, Rowling referred to the views of the "fringe of nationalists who like to demonise anyone who is not blindly and unquestionably pro-independence" as "a little Death Eaterish for my taste."
"By residence, marriage, and out of gratitude for what this country has given me, my allegiance is wholly to Scotland," she continued.
Calling Scotland an "exceptional" country, the long-standing Labour supporter and donor admitted to not being a fan of the current government in Westminster.
"I couldn't be happier that devolution has protected us from what is being done to health and education south of the border," she said.
However, she also highlighted what are, in her opinion, some of the benefits of the union.
"I'm mindful of the fact that when RBS (The Royal Bank of Scotland) needed to be bailed out, membership of the union saved us from economic catastrophe and I worry about whether North Sea Oil can, as we are told by the 'Yes' campaign, sustain and even improve Scotland's standard of living."
She justified her support of the 'anti-independence' campaign by underlining potential problems with the opposing 'Yes Scotland' campaign.
"The more I listen to the Yes campaign, the more I worry about its minimisation and even denial of risks," she wrote on her site. "Whenever the big issues are raised – our heavy reliance on oil revenue if we become independent, what currency we'll use, whether we'll get back into the EU – reasonable questions are drowned out by accusations of 'scaremongering'."
The author urged people to think pragmatically and not to place "higher importance on 'sticking it' to David Cameron, who will be long gone before the full consequences of independence are felt, than to looking after your own," and to consider "what you might be doing to future generations."
She said she worried Scotland would lose out if it chose independence, quoting a study highlighting the country's depleting oil and gas reserves: "which says that 'it would be a foolish Scottish government that planned future public expenditure on the basis of current tax receipts from North Sea oil and gas'."
Rowling also referred to a letter from Scotland's medical schools "expressing 'grave concerns' that independence could jeopardise what is Scotland's world-class performance in this area."
"In this area, as in many others, I worry that Alex Salmond's ambition is outstripping his reach," she said of Scotland's First Minister.
However, the author believes voting to stay in the United Kingdom will give Scotland the upper hand.
"We will be in the heady position of the spouse who looked like walking out, but decided to give things one last go," she mused. "All the major political parties are currently wooing us with offers of extra powers keen to keep Scotland happy so that it does not hold an independence referendum every ten years and cause uncertainty and turmoil all over again. I doubt whether we will have ever been more popular, or in a better position to dictate terms than if we vote to stay."
Her donation is the largest single gift given to Better Together, a campaign run by her friend and former Labour Chancellor Alistair Darling.
In spite of this, Yes Scotland is outspending them. It has just had £3.5 million (approximately 4.34 million euro) – nearly 80 percent of the campaign's income – donated to it by Euromillions jackpot winners Chris and Colin Weir.
Labour's Shadow Scottish Secretary Margaret Curran welcomed Rowling's donation to Better Together, but urged people not to be complacent.
The donation "will be put to good use in taking the fight to the nationalists," said Curran. "People cannot be complacent, though (…) We still need more donations and more support to make sure that people in Scotland say no thanks to separation once and for all."
It comes amid fresh conflict between the two camps after Scottish National Party MSP Kenneth Gibson accused former Labour Prime Minister Gordon Brown of being a "fully paid member of project fear," for warning that nearly a million jobs in Scotland are linked to its union with the UK.
Current polling suggests support for the 'No' (to independence) campaign is 12 points ahead of the 'Yes' campaign.