President Guebuza of Mozambique: 'The EU has no magic solution for Africa'
Comments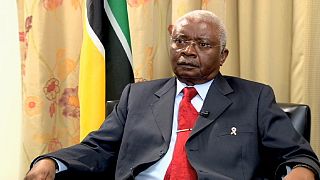 Mozambique has grown on average around 8 percent in recent years, partly because of large energy reserves, but half of the country's 25 million population still live in poverty.
Euronews correspondent Isabel Marques da Silva spoke with President Armando Guebuza about these issues during the EU-Africa summit in Brussels .
Isabel Marques da Silva, euronews:
"This EU – Africa summit wants to change the aid model to a model of investment and trade, particularly with the private sector. What will it mean in practical terms?"
Armando Guebuza, President of Mozambique:
"One of our traditional sectors is agriculture, where productivity has been increasing. This is already an important step and generates the need to develop the agro-industry and to have infrastructure in place that feeds this process. Also important to Africa is tourism because Africa, as you know, is a major tourist centre, not only because of the beaches but because of its nature and wildlife."
euronews:
"And what is the role of Europeans in terms of investment and trade? Which model would be desirable to optimise growth?"
President Guebuza:
"What Europe can and must do is continue to support us, especially in infrastructure, training and fighting dangerous diseases. Mozambique is working at it, although only since relatively recently. We've been searching for a cholera vaccine for children. Europe has really lent a hand in the creation of new institutions. Mozambique now has more than 40 higher education institutions, distributed throughout the country's provinces".
euronews:
"The fact is that the rate of poverty has not decreased as hoped and half of the population still live in poverty. Transport, access to water and electricity are there for the elite. But if there is more income available, why aren't there more services?"
President Guebuza:
"People's attitudes don't change just because there is a sudden 10 or 15-percent growth rate. The distribution of wealth is not just mathematical, it depends on the creation of jobs, hospitals, infrastructure and so on. Each one takes a long time to build. Despite the growth that Africa is experiencing, to build a 100 or 200-kilometre road, for example, needs a major investment that's not available. Even in Europe, and in other developed countries, the crisis has to do with a lack of employment. You can't say there's a lack of money or of resources! They exist here but are not enough to absorb all the workforce. We're starting to grow, but obviously we can't see development like that from one minute to the next!"
euronews:
"We're still seeing large numbers of people migrating from Africa to Europe despite the difficulties. Many people still die on their way to Europe and there are many human trafficking networks. How do you think this problem should be solved?"
President Guebuza:
"The problem is socio-economic. More jobs should be created, there should be investments in improving living conditions, further strengthening of technical and vocational training, as well as university education and infrastructure. These changes would stop people from migrating from Africa to Europe or to any other continent in search of better living conditions."
euronews:
"Lets speak about natural resources as a source of wealth. Mozambique is often called the new "El Dorado" due to the recent discovery of large energy reserves. But these so-called "blessings" have in many other countries become a "poisoned gift" that has lead to an escalation in corruption, more armed conflicts and ecological devastation.
"How can Mozambique and other countries prevent these discoveries from causing problems? Can partnerships with European companies help prevent that from happening?"
President Guebuza:
"The problem shown by these great discoveries is, in essence, that we still have major shortcomings in knowledge, science and technology. These energy reserves should have been discovered long ago. We have large deficiencies in access to capital. We should have already made use of it a long time ago. Now what we have to do is use these discoveries – with the support of European investment – in a way that creates more income. Whatever is earned through taxes and business opportunities should be used to strengthen our budget."
euronews:
"Lets talk now about peace on the African continent. The EU is a major contributor to peacekeeping missions with recent examples seen in the Central African Republic, but also in Mali. During the last decade, the EU gave 1.2 billion euros for the so-called "African Peace Facility", but the continent seems unable to prevent and resolve armed conflict."
President Guebuza:
"Africa is aware that there are problems, Africa moves when there are problems and tries to anticipate and prevent them as they arise, but obviously these are human issues related to socio-economic problems and ancestral cultural conflicts between certain sectors of the population. You don't solve them by just handing over another billion dollars."
euronews:
"But are these missions useful?"
President Guebuza:
"They are part of the solution, but they are not the full solution. Yes, we need to continue to have the support of Europe, but not think that support from Europe is a magic wand that solves everything! I wish it was!"