Le Pen seemingly mocks UKIP after it rejects FN's advances
Comments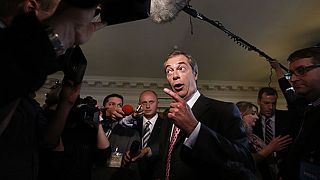 French far-right leader Marine Le Pen has seemingly mocked UKIP for choosing not to align itself with her party.
Le Pen, in an interview with the BBC , praised UKIP's charistmatic leader Nigel Farage and said her arms were open to future collaboration.
But the leader of France's Front National questioned why UKIP had decided to cosy up with Nicolas Dupont-Aignan's right-wing Debout la Republique party.
She said: "Nigel Farage appears to have chosen to campaign along with a candidate who reaches success of 1% in French elections, Nicolas Dupont-Aignan. I'm still wondering why he made that choice as Nicolas' political choices are very close to ours."
UKIP told the BBC it is not interested in a deal with Le Pen, because of "prejudice and anti-Semitism" with FN.
Le Pen, who claimed a breakthrough after FN won 11 cities in French municipal elections in March, said the door was still open to UKIP.
She added: "I think he [Nigel Farage] undoubtedly is a charismatic leader. His line is based on an accurate analysis of the situation. Even though we have different opinions on the economy. But I think he's missing the seriousness of the situation our continent is in. If he understood how serious the situation of the EU's situation he would support the collaboration of all patriotic movements and he would not use tactics and strategy."
UKIP is gaining in popularity in Britain. Although it does not have a MP in parliament, it performed well in local elections in 2013. It averaged 25% of the vote in council wards where it stood, according to estimates. Its performance was described as the 'biggest surge by a fourth party in England since the second world war'.