Algeria: how long can re-elected ailing Bouteflika hold on?
Comments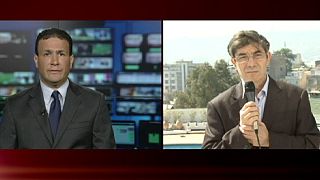 Abdelaziz Bouteflika, aged 77, has won a fourth term in office as president of Algeria, re-elected after already serving for 15 years, and having a stroke. Before being head of state he was foreign minister in the 1960s and 70s. He's been in politics since Algeria became independent from France.
After the Civil War spanning the 1990s, Bouteflika was credited with firm action to restore peace and stability. The war had pitted government forces against Islamists. Many civilians were among the some 200,000 dead.
Bouteflika became president in 1999. He held a referendum on his policies and amnestied most of the rebels, which contributed to reducing the violence.
There had been terrible atrocities, and so a subsequent decree was also controversial, giving ex-guerrillas immunity from prosecution for most actions, the same for army personnel.
Yet Bouteflika had been re-elected in 2004, again with such high vote scores that opponents cried fraud. His reconfirmation in office in 2009 was thanks to a constitutional reform removing limits on the number of presidential terms a person can serve.
In 2011, with the Arab Spring sweeping other countries, Bouteflika promised reforms, judged insufficient by critics. He lifted a state of emergency but he was able to maintain order. While other leaders were toppled, increasing instability, he stayed, managing to hold Algeria together.
One year ago, the president had a stroke and spent three months in a Paris hospital. He returned home last July, and practically stopped going out in public.
For around two years now, the once-rousing bilingual speech-giver has been a man of few words.
This election is different from previous elections since Algeria's independence because the country is confronting new social and political conflicts. Algeria is divided over the candidacy of Bouteflika.
He appeared certain to win a fourth mandate and insisted on running although he is seriously ill. This raises the question: Is his inner circle preparing a successor?
To discuss this, euronews spoke with regional expert Majed Nehme, editor-in-chief of Afrique-Asie Magazine.
Aissa Boukanoun, euronews: "Bouteflika's supporters say he guarantees Algeria's stability, but critics believe he's too ill to govern. What does the constitution say?"
Majed Nehme: "There's nothing in the constitution which prevents him from presiding on the grounds of poor health. There is no condition covering this in the constitution."
AB, euronews: "Ali Benflis has said the result of this election had already been decided?"
MN: "That's right, Ali Benflis already said that before the campaign started."
AB, euronews: "The Algerian president is also the head of the armed forces (general chief of staff). How far does this role extend?"
MN: "Since Algeria's independence in 1962 the president has been the head of the armed forces and secret services according to the constitution, and he decides who to hire and fire. The president is also the defence minister. He is all-powerful."
AB, euronews: "Given the president's continuing ill health, what is the official procedure for choosing his successor?"
MN: "I think it's too early to talk about the president's successor. Algeria is a democratic country so there must be a political consensus. It's clearly stated in the constitution that if the post of the president is vacant, then the head of the Senate can take over his functions for forty days to prepare for new elections."
AB, euronews: "The opposition had threatened to challenge the result if Bouteflika was elected. What could happen now that he has been re-elected?"
MN: "There may be protests but the majority of candidates have already accepted the initial results, with the exception of the most imporant candidate, Ali Benflis, who has asked his supporters not to use illegitimate means to demonstrate."