Loved-hated Vice steals the show at MIPTV market
Comments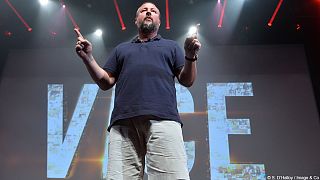 MIPTV brought down the curtain on Thursday on its most digital edition ever. On that issue, one the most attended and talked-about keynotes was Eddy Moretti and Shane Smith's Vice talk for the Digital Fronts program on Wednesday, April 9. Vice is a digital network that offers both articles and videos of all kind of formats online, reports on HBO channel, produces records and much, much more.
The media world has fostered something of a love-hate relationship with Vice media group due, in part, to its growing success and open ambitions to conquer and rule the digital world.
Shane Smith, ViceCEO and co-founder, seems to enjoy repeating that he is coming after the biggest names in the business to show them how it's done. He said it again at this year's MIPTV: "If you look at what you can do online internationally and how you can reach people, I'm not going to be the next CNN, I'm not going to be the next ESPN, I'm not going to be the next MTV. I'm going to be 10x CNN, I'm going to be 10x ESPN and 10x MTV."
To achieve this goal, Vice has continued to launch new shows, the latest of which were presented to a packed auditorium in Cannes by Eddy Moretti, Vice's chief creative officer. He presented six shows covering themes dear to their young-adult audience: food and culture, music, new technologies, sports, off-the-beaten-track news and climate change.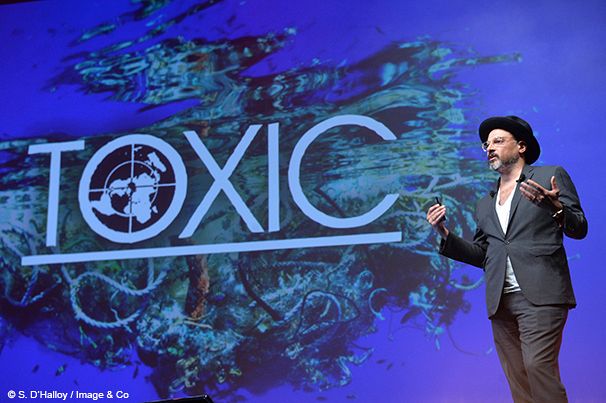 Eddy Moretti explained what makes these programs different and, well, Vicelike: "The offices around the world are filled with young people. They are making the content they want to see".
Smith took to the stage after Moretti and pressed Vice's credentials further, telling the audience: "I don't care if it's online, I don't care if it's on TV. All I care about is if it's good content, and we tell the story well. Why? Because we are Gen Y. […] We're different, we're coming along in a different language. Why? Because the people who shot it are young, the people who cut it are young. It's a young persons' medium. It could be online, it could be TV, it could be mobile, it could be anything. All we care about it's that it's good."
"It's a young persons' medium"
Shane Smith, CEO & Co-founder of Vice
He concluded on a lyrical note, sharing the philosophy behind the media he co-founded, with the kind of attitude and language that may go some way to explain that love-hate thing that lingers around Vice: "We can't just have stick-your-head-in-the-sand shit anymore. We have to say something. We have to say 'if we don't do something about the environment, we're f**ked'. And if we don't say that in media, then shame on us. "Let's change the f***in' world."
The point both men seemed insistent on impressing on our minds is that Vice is a young medium for the young. _ Vice_'s audience of predominantly young men, as clearly stated before in a Bloomsberg interview, is what brought it good audience numbers and advertisers. According to Bloomberg, Vice can claim seven million unique visitors on its website and 2.8 million viewers per episode on HBO. Its YouTube channel has 4.4 million subscribers. Advertisers have rushed to Vice. And on its videos, as video-advertisement online has proven to be a reliable source of online advertisement revenue.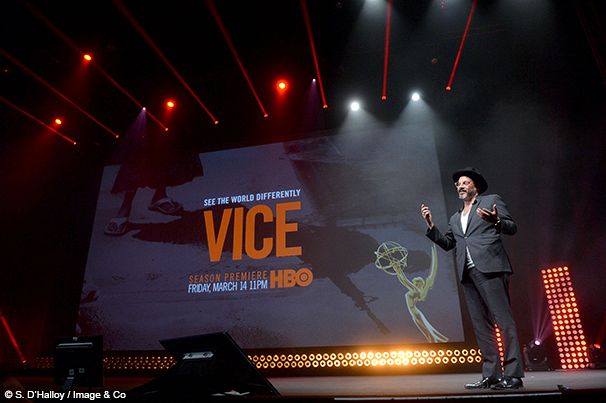 Vice has become highly profitable; Smith claims that his company doubles revenue every year and could reach $1 billion by 2016. Last summer, Rupert Murdoch's 21st Century Fox acquired a 5% stake in Vice media, which can also count on prestigious investors such as MTV founder and former Viacom CEO Tom Freston and WPP Plc, an advertising company.
Shane Smith is now aiming higher and announced at the end of March that he was considering launching IPO. If it happens, assume it won't be done on the quiet.
Vice started as the Voice of Montreal, a print cultural magazine in 1994 in Canada. It was founded by Suroosh Alvi, Shane Smith and Gavin McInnes. It was renamed Vice in 1996.
The headquarters were relocated to New York in 1999.
Vice evolved into a media network called Vice Media which includes: a print magazine, a website, a production company, a record label, a show on the channel HBO and a YouTube channel network. Vice has 36 offices around the world and around 4 000 employees.
Vice also bought the famous i-D magazine and a pub in London (The Old Blue Last).