Junior at MIPTV 2014: kids programming pushed forward by an innovative audience
Comments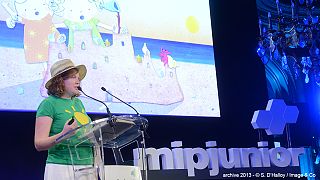 This year entertainment content market MIPTV dedicated a whole program to children's shows with, as a focus, the idea that kids are a pioneering audience when it comes to new habits induced by new technologies. And the event was very well-attended, with around 1,600 buyers specialising in this audience present.
"Children are the first ones to adopt new technologies and new formats: they watch videos online from all around the world" said Laurine Garaude, head of Reedmidem, the company that organises MIPTV. They therefore challenge old formats and habits, pushing this branch of the content market to move faster and further than any other.
Participants in Junior at MIPTV agree on the fact that the "Millennials", especially kids and teenagers born after 2000, are digital natives for whom TV is not the only screen: they move effortlessly from TV to tablets and phones. "We cannot develop a project with only TV in mind or we would be stillborn" explained Sergi Reitg, CEO of Spanish animation company Imira Entertainment.
He explained that they adapted to their audience's new habits by making shorter programs which can then be turned into video games when viewed on a smart TV or a tablet.
In a talk on Wednesday 9, Amazon Studios director Roy Price and the head of kids programming, Tara Sorensen, announced they would soon offer programs for pre-schoolers. They also explained that the studio was looking into a convergence between kids shows and apps for Kindle Fire. They refused to give more details but explained that "it's clearly an interesting area we're looking into" . They did give away that they were working on the best way to take advantage of this second-screen experience.
Sorensen is among those who share Amazon Studios' philosophy about kids programming, asking: "children are natural born explorers and scientists: how can you capture that and then take it through for the rest of their lives?". Amazon Studios has answered that question by offering characters that kids would be likely to try to emulate. Annedroids, for example, is a live-action show about a girl who built robots to help her with her scientific experiments.
"children are natural born explorers and scientists"
Tara Sorensen, Amazon Studios
Yoni Bloch, CEO of Interlude, a platform for interactive videos, thinks technologies can help in that field. In an interview to MIPTV blog, he said that interactive programs can become "an active experience that makes education much more fun." He added: "Repetition is the mother of all learning, and because kids love watching the same thing over and over, interactive videos invite kids to continually engage and shape the story differently each time." It is even more easy as kids "grow up immersed in [technology] and become digital natives".
These digital natives, kids and teenagers, are heavily present online and on mobile and YouTube is a favourite destination for them. During a talk on Wednesday, René Rechtman of Maker Studios, a multi-channel network on YouTube, revealed that 80% of Maker's 380 million subscribers are aged between 13 and 34 and 40% of that demographic watches videos on mobile.
During the same talk, Joseph Garrett said that his channel Stampylonghead, dedicated to gaming, is largely watched by young people and kids. He actually turned his videos into family-friendly ones when he realised kids had flocked to his channel. He described the special relationship they've developed with him on that platform thus: "you're involved in their life more, for me, than a kids' television presenter would be." Garrett and Maker Studios announced that they would soon be launching a new, purely educational channel that will try to engage children in a way similar to that championed by Yoni Bloch. "If you take their engagement and put it into a more productive space like education or the arts, they're going to be involved in that, they're going to be engaged," said Garrett."
Video: 'If you ask a 14 yo boy in London who is the big star, it's not D Beckam, it's Stampy!" @RechtmanLondon#MDFhttps://t.co/jPkiksBHGk

— MIP Markets (@mip) April 9, 2014
"TV programming is one avenue that can change and respond to what kids desire, and if we can harness what we communicate with kids through interactivity, we can create an expansive playground for them to explore and learn," summed up Yoni Levi as the talk wound to an end.
Another genre that works well among children is comedy. According to Sergi Reitg, children share a universal sense of humour, with fewer cultural differences than adults have to juggle with, making it easier for animation to travel the world. Mercedes Marro, from Spanish animation studio Tomavistas confirmed this theory; she always sells more comedies than any other program when she is abroad.
With EFE