Video and photo evidence add to drama of Pistorius trial
Comments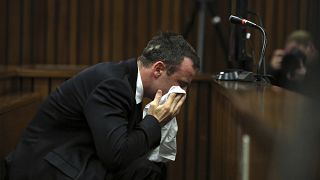 South African prosecutors at the trial of Oscar Pistorius have shown a video of the athlete firing a gun at a shooting range as they began his cross-examination on Wednesday.
In the video, which was uncovered by Sky News, Pistorius is shooting at a watermelon and a voice in the background is heard saying "It's not as soft as brains but ****, it is a zombie stopper."
Pistorius confirmed that the voice was his but dismissed the relevance of comparing shooting at a watermelon and shooting at a human being. Pistorius also said the comments he made in the video were distasteful but the context was about a "zombie" rather than a human being.
Prosecutor Gerrie Nel went on the offensive and said, "One can see the effect the ammunition had on a water melon. It exploded. You know the same thing happened to Reeva's head?"
Nel then displayed a forensic photo of Reeva Steenkamp's head matted with blood and human tissue and asked Pistorius to take responsibility and look at the photo. The graphic nature of the image prompted tears and gasps from gallery.
Pistorius refused to look at the photo and said while breaking down, "I will not look at a picture when I'm tormented… I don't have to look at a picture. I was there!"
Following an interjection by Pistorius' defence lawyer calling it "unfair questioning," the court adjourned.
Throughout the day journalists tweeted the emotional reactions from the courtroom:
#Pistorius descends into uncontrollable sobs and court is adjourned. Sister Aimee and psychologist go to comfort him on witness stand.

— David Smith (@SmithInAfrica) April 9, 2014
I don't think I've ever witnessed quite such an emotive, harrowing exchange in a courtroom. It lingers. Twitter doesn't quite suffice.

— Mandy Wiener (@MandyWiener) 9 Avril 2014
#Pistorius family clearly appalled by the latest turn of events, feeling that Nel's aggressive use of photo was uncalled for.

— David Smith (@SmithInAfrica) 9 Avril 2014
Pistorius rejects the charges that he intentionally shot dead his girlfriend, insisting that he mistook her for a burglar. Today is his third day in the witness box. On Monday he broke down during his testimony, prompting the court to adjourn until April 9.
The high-profile case is one of the most closely-watched trials in the country's history.