Ukraine: Putin turns up the gas on Kyiv over energy
Comments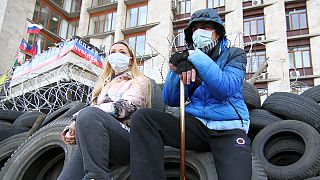 President Vladimir Putin will meet senior Russian government officials on Wednesday to discuss Russia's economic ties with Ukraine, including on energy, his spokesman said.
The spokesman, Dmitry Peskov, gave no further details. State-controlled natural gas producer Gazprom says Ukraine missed a deadline to pay its March gas bill by midnight on Monday and owes the Russian company $2.2 billion.
Police detained 70 people occupying a regional administration building in eastern Ukraine overnight, but pro-Moscow protesters held out in a standoff in two other cities in what Kiev called a Russian-led plan to dismember the country.
Kiev says the seizure of public buildings in eastern Ukraine's mainly Russian-speaking industrial heartland on Sunday night is a replay of events in Crimea, the Black Sea peninsula Moscow annexed last month.
Ukrainian authorities gave few details of the "anti-terrorist" operation that cleared the building in the town of Kharkiv but said two police had been wounded by a grenade that was thrown. Russia has denied Ukrainian charges of involvement but warned Kiev against any use of force against Russian-speakers.
The pro-Russian protesters who also took over official buildings in Luhansk and Donetsk demanded that referendums be held on whether to join Russia like the one that preceded Moscow's annexation of Crimea.
"An anti-Ukrainian plan is being put into operation … under which foreign troops will cross the border and seize the territory of the country," Prime Minister Arseny Yatseniuk said in public remarks to his cabinet. "We will not allow this."
NATO's secretary-general warned Russia on Tuesday that if it were to encroach into eastern Ukraine there would be "grave consequences" for its relationship with the alliance.
"If Russia were to intervene further in Ukraine it would be a historic mistake," Anders Fogh Rasmussen told a news conference in Paris. "It would have grave consequences for our relationship with Russia and would further isolate Russia internationally."