Battle over Scottish independence reaches US
Comments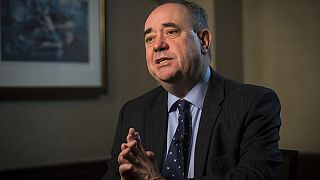 Less than six months before the referendum in September, the increasingly vicious battle over Scottish independence has reached the United States, with prominent activists for the Yes and No campaigns drumming up support for their causes in the former British colonies.
Scotland's First Minister Alex Salmond was taking his pro-independence message to New York on a five day trade mission that started on the weekend. The visit was part of the annual Tartan Day festival, a varied program of events which celebrate Scotland's cultural heritage and its historic links with America.
Trying to bolster the pro-union campaign in Washington on Monday was Lord George Robertson, Britain's former Defense Minister (1997-99) and NATO Secretary General (1999-2003).
Speaking to foreign policy experts at the Brookings Institution, a prominent liberal think tank, Lord Robertson, who is Scottish, warned against the adventure of independence. "A break-up of the United Kingdom would only make our worst enemies in the world cheer", he said.


Lord Robertson (Left) and Alex Salmond (Right)
A Yes vote in September could trigger a "balkanization of Europe", as independence movements in Spain and Belgium could try to take advantage of the Scottish referendum and to emulate that outcome, Lord Robertson said.
In addition, the economic impact on an independent Scotland would be unpredictably dramatic, as most markets of Scottish businesses would suddenly be south of the border, "in a foreign country", he said.
On the other side, Salmond feels bolstered by a recent poll that shows supporters of Scottish independence are gaining ground. He said on MSNBC that "confidence is growing" in his camp, predicting that Scotland which exported goods and services worth of more than $5 billion to the US in 2012 would remain "a friendly country to the US."
Salmond touched upon a very sensitive foreign policy issue in the campaign for Scottish independence and that is the position the US would take in case of the break-up of Britain, Washington's staunchest ally on the global stage.
Obama administration officials have started to worry about the possible dissolution of Britain and plans by Salmond to throw Britain's Trident nuclear submarine fleet out of the Faslane naval base in western Scotland.
"The main questions on the US side have so far been on the security front. On the idea of what's going to happen on the nuclear deterrent because obviously the US has a large vested interest in the nuclear submarine capacity," says Fiona Hill, a senior fellow at the Brookings Institution.
Salmond believes US officials had been balanced on the Scotland issue so far. "America, through the administration, has quite rightly adopted a platform of studied neutrality," he said.
But that might be a hasty conclusion. From Washington's point of view, an independent Scotland could damage the credibility of the United Kingdom in international institutions and in broader diplomatic debates.
"The fear is that the UK is gradually losing whatever geopolitical pull it once had," Charles Kupchan, a Clinton administration official now at Washington's Georgetown University, told the Financial Times. "If you add in a potential exit from the EU, then the potential diminution of Britain's place in the world starts to loom large."
So far, the debate over Scottish independence has generated little attention in Washington. There have been close to zero repercussions in Congress and only few media articles. Some experts believe there is a touch of complacency to the discussion among US policymakers because polls suggest that an independent Scotland is not going to happen.
But that could change dramatically, should the supporters of a Yes vote consistently gain ground in the polls. And even President Barack Obama might be forced to take sides publicly.
Two weeks before the September referendum, President Barack Obama will be in Britain for a NATO summit. If he has not been asked about it before then, he will probably have to break his silence on the potential impact of an independent Scotland.