MIPTV 2014: looking for a business model
Comments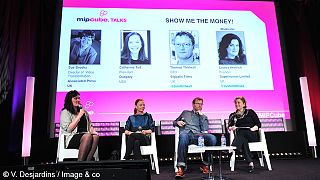 The entertainment content market MIPTV 2014 opened its doors on Monday morning with money on the minds of many of those attending; the complicated business model governing online content has had newspaper bosses scratching their heads for years and poses a conundrum also for those in television, which has also migrated online without a crystal clear view of either revenue or funding. Very different models co-exist with the full spectrum of success and failure: crowdfunding, innovative advertisement, platform-based co-productions, subscriptions, paid-for video-on-demand…
It is as much a question of generating revenue from content for further investment as it is getting funding outside of the traditional production circuit. In a study published by PricewaterhouseCoopers (PwC) quoted in a MIPTV report the gap between advertising on TV and on digital "is shrinking". PwC "predicts that annual TV ad revenues will grow past the $200bn mark by 2017" while internet advertising will be up to $185bn. The difference will drop from $62bn in 2012 to $17bn in 2017. Money is moving but not going away.
Video remains key as Sue Brooks of press agency Associated Press testified during Show me the moneyMIPCube talk. "It engages with a new audience. It brings a story to life," she said, before going on to explain how not only media but also brands are hungry for video because "traditional advertising isn't working anymore. When the first banner ad appeared in 1994, there was a 44% click-through. Now it's 0.001%."
"We didn't want to sit around until commissioners give us money and tell us what to do with our content."
Thomas Thirwall, Bigballs films
Before monetizing a program, however, it has to be produced. Thomas Thirlwall from Bigballs, a film production company, explained in the same talk how starting a content company in the digital age is to "become a content entrepreneur. It's not just about producing it and writing it and getting it out there. It's everything else in between."
YouTube is one example of that in-between. And this is precisely where Bigballs Films started from. Easy to use, easy to upload videos to and providing easy access for advertising, YouTube is undoubtedly a very accessible source of revenue. "You'll hear a lot of naysayers and doom-mongering about how you make money on YouTube and digital platforms. I'm here to tell you you can do it," says Thirlwall.
Alex Carloss, Global head of Entertainment at YouTube, is expected to give examples of successful YouTube-only programs or programs successfully promoted on YouTube in his keynote on Tuesday 8. In a previous conference at The Next TV summit last September, Carloss explained that YouTube "reoriented around brands" whether they are "great brands" or new players and creators. He described it as a "third way of channels, post broadcast, post-cable".
A month ago, one of these new ways of producing hit the cinemas: the Veronica Mars movie was released after being financed by fans via Kickstarter crowdfunding website.
Watch the talk: