Hungarians re-elect powerful Orban
Comments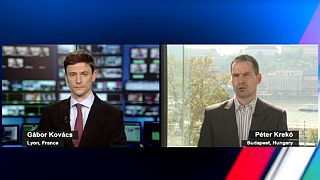 Four more years for Hungary's Viktor Orban to govern: this means European Union partners and big business in Hungary can expect four more years of unpredictable measures.
That is if he champions national interests in the same, sometimes unconventional ways he has so far.
"This was not just any victory," Orban told supporters as Sunday's election results were being tallied.
"We have scored such a comprehensive victory that we cannot yet fully grasp its significance."
According to an official projection, Orban's Fidesz party was guaranteed to form the next government, with either a simple majority or a super majority.
In 2012, Orban rewrote the election rules, making them one round, not two, and almost halving the number of parliament seats, to 199.
The leader of the weakly performing Socialist Party would not even congratulate Orban, saying unfair voting changes favoured Fidesz – which it denies.
The left were pushed out of office in 2010.
Fidesz this time got fewer votes than it did then. (It had lost the 2002 and 2006 elections) Yet this time, with less than half of the popular vote, Fidesz secured two thirds of the seats in parliament.
The score of the nationalist right-wing party Jobbik jumped compared to four years ago.
Some pundits say Jobbik is one of the most extreme of Europe's far-right parties, although it denies being racist.

In 2010, Jobbik won 17 percent. This time, one in five Hungarian voters identified with Jobbik.
It claims to be the strongest national radical party in the EU today.
Its leader said it is continuously increasing its popularity.
The Socialists' leader, however, said Jobbik "is poisoning the whole of Hungarian society".
Meanwhile, Viktor Orban has a new mandate to personally manage Hungarian democracy.
In the days to come, we will know for sure whether Fidesz will keep its two thirds parliamentary majority. Voting has been very close in places and some votes are coming in from abroad.
No matter what the final outcome is, under the new electoral law, with just 44 percent of the vote, Fidesz has got around two thirds of the seats in parliament.
Euronews spoke to political analyst Peter Kreko of Hungarian think-tank Political Capital.
Gabor Kovacs, euronews: "What is your take on the new electoral law? From now on, will it be an easy ride for Fidesz or is the new system a double-edged sword?"
Peter Kreko, Political Capital: "All in all, we can say that the new electoral system created by Fidesz is working extremely well for them. With a relative majority, they have managed to secure a two thirds or close to two thirds majority. I don't think they will have any problem with this in the near future."
euronews: "The biggest surprise was the 20 percentwon by the far-right Jobbik party, although it did not seem to be happy. What did they expect? Do they have more potential voters?"
Peter Kreko: "It was rather bizarre to see the dejected mood at the party headquarters, since this 20 percent is an extremely good result for them – it is four percent more than they had got previously. This is their best performance so far. It will be able to help them mobilise supporters for the European elections in May, when I expect they will perform even better, getting 25 percent…"
euronews: "In his victory speech, Viktor Orban said Hungarians voted to stay in the EU but that they need a strong, national sovereign government. What did he mean by that? Is this the start of his European election campaign?"
Peter Kreko: "Yes, this is definitely the start. You have to bear in mind that Fidesz is a soft, eurosceptic party. It criticises Brussels a lot but it wants to stay inside the EU. On the other hand, Jobbik has always wanted to leave the EU, although the rhetoric might change as the majority of their supporters might oppose a total breakaway."
euronews: "What can we expect now? This is a strong endorsement for Viktor Orban to continue his unorthodox economic policies. Do you think the government could cut energy bills further and impose extra taxes on multinational companies?"
Peter Kreko: "The government's biggest problem is that it might not be able to live up to the really high expectations following the popular cuts in energy bills. The most important question is whether this unorthodox economic policy will attract investment after four years of ad hoc decisions and an uncertain legal environment with huge extra taxes on banks and multinational companies. We can expect something near to economic stagnation in the years ahead and that is not an ideal environment for maintaining popularity."