Viktor Orban wins four more years
Comments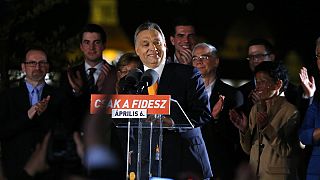 Hungarians have handed Prime Minister Viktor Orban another four more years in power, incoming results in the country's parliamentary election showed on Sunday with the country's far-right Jobbik party also performing well.
Translated into parliamentary seats Fidesz looked on course to win 133 seats out of a total of 199 with the leftist Unity Alliance taking 37 seats and Jobbik 24 seats. The Green LMP party appeared set to win five seats. It is Hungary's first election under a new constitution and electoral system.
Thanking supporters in Budapest Orban declared victory saying, ''There is no doubt we have won'', claiming it was the biggest win by a single political party in Europe. Orban went on to say, ''Hungary is the most united country in Europe.'' The prime minister also said Hungarians had voted to stay in the European Union. He finished his speech with his campaign slogan, 'Go Hungary, go Hungarians.'
Overall turnout was just over 60 percent.

Despite repeated rows with the EU and foreign investors, particularly over heavy taxes and increased state control over the energy sector, Viktor Orban retained popular support among Hungarian voters. Under his stewardship income tax and household energy bills have both fallen, a policy he pledged throughout the election campaign to continue. But critics have accused Orban of curbing democratic checks and balances and the freedom of the media – allegations his government has repeatedly rejected.
Projected results also showed the country's Jobbik party had improved on their 2010 result, finishing third overall. Despite that, the far-right party's leader Gabor Vona expressed disappointment with the result. He vowed to win Hungary's next parliamentary elections in 2018.
During the electoral campaign Jobbik pledged to create jobs, be tough on crime, renegotiate state debt and hold a referendum on EU membership. While it denies being racist, it has repeatedly been accused by critics of being anti-Semitic and stoking hatred towards Hungary's Roma minority.
The country's centre-left opposition was projected to finish Hungary's second strongest party well behind ruling Fidesz. Routed in 2010, the opposition grouping showed little signs of recovery, ending the night slightly ahead of Jobbik.