Hungary: the last days of election campaigning
Comments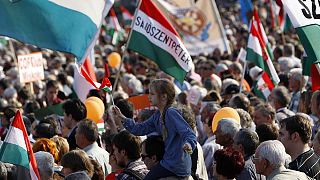 Parliamentary elections are to be held in Hungary on Sunday, April 6, the first vote to be subject to the new electoral law brought in 2012. Among the main changes are the fact that there is only one round, so-called trans-border Hungarians can also vote and the number of MPs will be reduced from 386 to 199. An interesting fact that there are more than 500,000 Hungarians living and working in EU countries but only around 28,000 has registered to vote.
According to the latest polls the ruling party, Fidesz, will likely remain in charge of the country, even if many analysts warn that is not yet a certainty.
The 2014 elections will involve more candidates than in previous ballots thanks to less strict criteria under the new rules. Around 1,500 candidates have been registered and 18 parties have set up a national list. Realistically only four parties have any real chance to enter parliament: the ruling centre-right, conservative Fidesz-KDNP, the unified left, the radical Jobbik and Lehet Más a Politika (LMP) which distances itself from the actual political elite.
The looser criteria for would-be candidates has led to some suspicious cases where people may have created pseudo parties to get state subsidies set aside for parties' campaigns. The law – approved by the Fidesz-led two-third majority in parliament – also changed the number of single-member constituencies. Some people, including political analyst and blogger Gábor Török, claim the ruling party changed the borders of constituencies to its advantage. The one-round system is also said to favour Fidesz.
Where is the opposition?
Some analysts believe the rules governing the media are detrimental to the political opposition. Tamás Boros, director of Policy Solutions, told Euronews that opportunities for opposition parties have been narrowed – the majority of news channels is considered pro-government, there are no political ads on commercial TV channels, and most owners of billboard advertising space are close to the ruling party.
According to Gábor Török, an analyst at Vision Politics, however, the main reason for the opposition's struggles is that while leftist parties have openly declared their unity, in practice they are far from united. "I think there are two reasons why the leftist parties formed a coalition at the last moment and made a common list for the elections: on the one hand they wanted to have an opposition candidate of the left in all the 106 single-member constituencies against the candidates of Fidesz. On the other hand they wanted to guarantee reaching the five percent threshold to get into parliament," says Török. He adds that the left lacks a charismatic leader capable of taking on and beating the current Prime Minister. As he puts it, while many people want to fulfil this role, "the search for a leftist Viktor Orbán is still on."