MH370: Hopes fade in Malaysia as Australian searches fail to find debris
Comments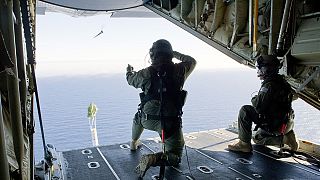 The international team hunting Malaysia Airlines Flight MH370 in the remote southern Indian Ocean failed to turn up anything on Friday, and Australia's deputy prime minister said the suspected debris may have sunk.
The Malaysian officials held a new press conference this morning, with no new information on the possible location of the missing jet. The Transport Minister Hishammuddin Hussein said that Malaysia is still waiting for a confirmation on the possible crash site on a remote area at Southern Indian Ocean.
Australian Deputy Prime Minister Warren Truss said on Friday objects spotted on satellite images that sparked an international hunt in the remote southern Indian Ocean for Malaysia Airlines Flight MH370 may have sunk as the new aerial searches, this Friday, were again unfruitful.
The satellite images were taken on March 16. "Something that was floating on the sea that long ago may no longer be floating," he told reporters in Perth. "It may have slipped to the bottom."
The Australian-led mission sent back five aircrafts to an area some 2,500 km (1,500 miles) southwest of Perth.
The search began on Thursday after analysis of satellite images identified two large objects floating in the ocean there that may have come from the Boeing 777 which went missing 13 days ago with 239 people aboard.