Tony Benn, icon of the British left, dies at 88
Comments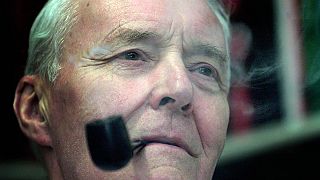 Veteran UK Labour politician Tony Benn has died at home in west London surrounded by his family after falling seriously ill last weekend. He was 88.
Benn was arguably the most influential politician of the post-war era never to hold one of Britain's great offices of state, despite 60 years in politics, 50 of them in parliament, and several cabinet ministerial jobs.
He was, unarguably, loathed and loved in equal measure, depending on which side of the political divide you stood. That was because he was an unapologetic left-winger, regularly vilified by the right-wing press as dangerous, mad, bad, or worse.
Despite this, in today's era of copy-paste politicians he stood almost alone as a man of ideology and conviction, with a rare gift for public speaking and a wicked sense of humour. He was also able, despite an aristocratic background, to talk to ordinary people and connect with them in a way few of his contemporaries could. In person he was charm itself, and far from being a firebrand he spoke about his beliefs in a modest, reasoned way, even if colleagues often found him distanced and aloof.
Benn came from a long line of Liberal MPs, and on the death of his father, who had defected to Labour, inherited the title of Viscount Stansgate. Insisting he wanted to sit in the House of Commons, and not in the Lords, he forced a change in the law allowing him to renounce his title, one of his more lasting achievements.
On the centre-right of the Labour party as a young man, and strongly pro-Europe, by the early 1970s he had become more radicalised, embracing hard-left politics and rejecting the loss of sovereignty EU membership implied. He campaigned for a 'no' vote in the 1975 referendum on British EU membership, unsuccessfully.
In economic terms he was an interventionist. As Energy Secretary he forced the oil companies to give the government a better deal in the fledgling North Sea oil boom than the Conservatives had negotiated. He also tried to set up worker co-operatives as an alternative to industrial closures. He attempted to save the British car industry by merging several household names into the ill-fated British Leyland.
He also fought for greater democracy within the Labour party and pushed for a greater role for activists and party members, although that was also motivated by personal ambition as he believed he could be carried closer to the leadership by the Trotskyist Militant Tendency faction that the party later expelled.
His critics insist his determination to take Labour further to the left ensured it split and was frozen out of power for the dark 18 years of the 80s and 90s. His supporters counter he was the only frontline politician trying to keep Labour's radical heart beating at a time when the party was under attack from all sides.
Passionately anti-colonialist, he was a lifelong anti-nuclear and anti-racist campaigner, opposing military intervention in the Falklands, Iraq, and Kosovo. He was a republican, favouring the abolition of the monarchy, and supported the idea of a united Ireland, even at the height of deadly IRA attacks both in Ireland and on the British mainland. These were deeply unpopular, even treasonable positions for many.
In 2001, when he stepped down from elected office, he quipped he "was leaving parliament to become more involved in politics," and began a transformation into something of a national treasure, as he entertainingly spoke in public and published his exhaustive diaries, whose eight volumes will provide historians with material for years to come.
Much of the diary material was made with the help of recordings Benn began making in the 1970s after his frustration at the hands of journalists who he insisted made a point of mis-quoting him. From then on every word he said in interview went on record, and the tapes, a unique archive of its kind, will provide his biographers with precious material.